Ban large executive cars, says climate change expert
University professor says big executive cars carrying "male egos" should not be allowed on the road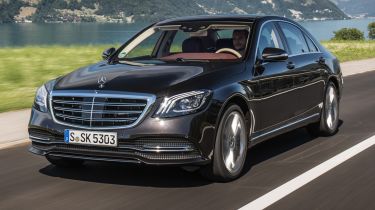 Large executive cars should be banned from the UK's roads in order to help tackle climate change, according to a leading academic.
Professor Kevin Anderson, chair of energy and climate change at the University of Manchester's School of Mechanical, Aerospace and Civil Engineering, said that "great big" executive cars carrying "male egos" should not be allowed on the road.
• EVs cleaner than petrol or diesel cars, even when the electricity comes from coal
"When I walked here," Anderson told an audience at a low-carbon event in London, "I passed a great big Audi sports car probably emitting 250g/km of carbon dioxide, two huge four-wheel-drives carrying some male egos and a massive great big Mercedes limo.
"Now, why on Earth, if we're serious about climate change in 2019, are they allowed on our roads? I want to see a reduction there – that's a growth we can get rid of straight away."
• EU rules car CO2 emissions must reduce by 37.5% within 11 years
Suggesting even more extreme measures, Anderson said that by "removing the resources and the labour that currently furnish the luxuries of the 10 or 20 per cent" authorities could develop a zero-carbon infrastructure "within the next 20-25 years." He also accused Governments around the world of having "failed" to tackle climate change issue over the last 30 years.
This isn't the first time Anderson has suggested extreme measures to tackle climate change. Back in 2016, he said rich nations could slow their economic progress by "planned austerity" in order to reduce their fossil-fuel emissions, allowing less developed nations to pollute as they developed their economic and industrial strategies.
Do you agree with Professor Anderson? Tell us your thoughts in the comments below...