World's first indoor winter test track opens in Finland
Finnish indoor test facility offers over mile-long indoor test track, allows for year-round winter testing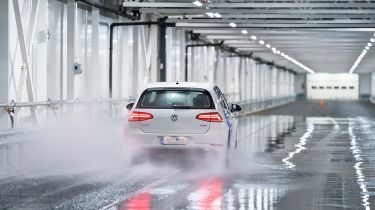 The world's indoor winter test track, which allows manufacturers to put vehicles through extreme winter testing all-year round, has opened in Finland.
Test World, based in the Lapland town of Ivalo, has opened the doors to its new facilities, allowing repeatable vehicle testing on snow, ice, and wet and dry asphalt, all year round in controlled conditions. Test World's new mile-long indoor test track allows for cars to be tested at speeds exceeding 62mph in controlled conditions, 365 days a year.
The facilities offer independent control of surface temperature and air temperature, while vehicles can be soaked to -40°C in cold boxes prior to their testing. The brand new indoor wet grip surface conforms to the UN/ECE regulations, which set harmonised rules for vehicle design across European and other countries. The track also includes areas with wet and dry braking and longitudinal aquaplaning areas.
Test World is operated by Millbrook, which also runs one of Europe's largest vehicle-proving grounds in Bedfordshire. Janne Seurujärvi, Test World's managing director, said the new facility adds "a whole new dimension to the testing that we are able to offer". Seurujärvi added car manufacturers would be able to benefit from "shorter development cycles and to launch their products to market sooner" as a result of the new centre.
Test World has its own team of drivers who put vehicles through their paces in extreme cold conditions, evaluating everything from electrics, brakes, traction control systems, powertrains and tyres.
Click here to check out our winners and losers in the Auto Express winter tyre test...