Big drop in uninsured drivers caught on UK roads
Last year saw the lowest number of uninsured drivers caught on the road since 2012, even though 2017, by contrast, saw the most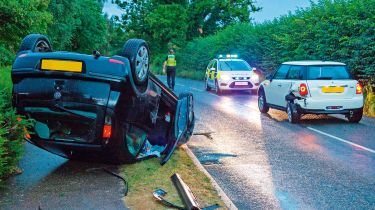 Fewer drivers were caught behind the wheel without insurance in 2018 than in any year since 2012, new figures have revealed.
Police apprehended 79,713 uninsured motorists last year – the lowest number in the last seven years – compared with 118,698 in 2017, which was the highest number since 2012, according to a Freedom of Information request made to the DVLA (Driver and Vehicle Licensing Agency) by the RAC.
• Cheapest cars to insure in the UK
The figure for 2018 represents a 33 per cent drop from 2017's high, or a 27 per cent decrease from 2012, when 108,616 people were caught driving without insurance, the penalty for which is six to eight penalty points being placed on the offender's licence for four years.
 

Year

 

 

Number of uninsured drivers caught

 

 

2012

 

 

108,616

 

 

2013

 

 

108,486

 

 

2014

 

 

102,417

 

 

2015

 

 

92,804

 

 

2016

 

 

113,502

 

 

2017

 

 

118,698

 

 

2018

 

 

79,713

 
Of the offenders caught last year, 872 were under the age of 17 and therefore not even of legal driving age. This is 47 per cent fewer than 2017, when 1,644 under-17s were caught and 31 per cent less than the 1,255 in 2012.
The youngest offender in 2018 was 11 years-old, but the youngest recorded since records began in 2012 was a 10-year old who was caught in 2016. In contrast, the oldest offender on record is a 96-year-old found behind the wheel without insurance last year.
Some 3,309 24-year-olds were caught driving uninsured last year, the highest total of all the age groups in 2018. The largest number of offences by drivers of a single age, however, occurred in 2017, when 5,052 23-year-olds were caught.
In 2011 the Department for Transport – along with the DVLA and the Motor Insurers Bureau – introduced Continuous Insurance Enforcement, which sees uninsured drivers receive warning letters and Fixed Penalty Notices if they fail to take out insurance.
RAC Insurance director Mark Godfrey believes this policy contributed to the overall decrease in uninsured drivers from 2012 to 2018, while attributing the increases in 2016 and 2017 to the rising cost of insurance premiums.
What do you think are the reasons behind the fall in uninsured drivers caught in the UK? Let us know in the comments...