Governments must give owners "the right" to charge EVs, says industry
European car industry body calls for the mass rollout of smart EV charging infrastructure across the EU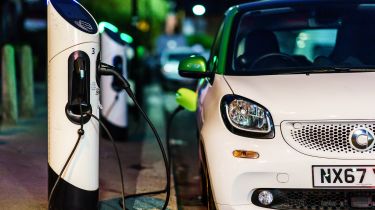 EV drivers' access to chargers must be guaranteed, the European car industry has told EU leaders.
The European Automobile Manufacturers Association (ACEA), along with along with the EU's energy, transport and environment bodies, and have said EV owners should have "the right to plug in" their cars in order to charge them, with 1.2 million EV chargers required across the continent by 2025.
• Electric car charging in the UK: prices, networks, charger types and top tips
The organisations want to see a massive deployment of strategically located smart charging infrastructure across the EU, enabling EV drivers to charge without "severely affecting" or "overloading" Europe's electricity grids.
Arguing that e-mobility has a "crucial role to play" in the decarbonisation of road transport and helping the continent achieve its climate goals, the three bodies have said that all barriers to the growth of EVs must be removed, both on motorways and in urban areas. They want to see existing EU laws reformed to help with this, together with more funding allocated.
Erik Jonnaert, secretary-general of the ACEA, commented: "The EU auto industry wants to work with all stakeholders to make zero-emission mobility a reality. To convince more customers to make the switch to electric vehicles, we have to remove the stress associated with recharging. This means that everyone must have the option to recharge their vehicle easily, no matter where they live or where they want to travel to."
Julia Poliscanova, clean vehicles director at T&E, added: "A rapid shift to electric cars powered by clean electricity is essential if we want to halt dangerous global warming. Now that carmakers are preparing a wave of new and affordable electric models, we need to ensure the fast and easy deployment of charging points at home, at work and on the road so that charging an electric car becomes a completely hassle-free experience for citizens across the EU."
Do you agree that governments must give EV owners the right to charge? Let us know your thoughts in the comments below...