Car finance commission crackdown to save customers £165m a year
Regulators want to ban the system by which car dealers and finance brokers receive commission linked to interest rates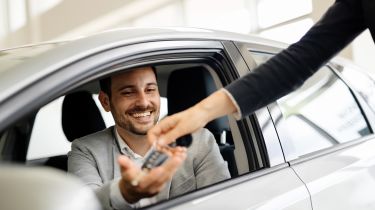 Car buyers could save £165 million a year if regulators in the UK succeed in their aim of banning a system by which dealers and finance brokers receive commission linked to interest rates.
At present, some car dealers and motor finance brokers receive commission linked to the interest rates that customers pay on their car's finance package. The Financial Conduct Authority (FCA) believes, however, that the widespread use of this type of commission creates an incentive for brokers to act against customers' best interests by setting unnecessarily high rates.
• Car finance explained: how to pay for your new car
By banning this type of commission, the FCA says the financial incentive for brokers to increase the interest rates a customer pays would be removed, with lenders being given more control over the prices paid by drivers.
In addition, the FCA wants to alter the way in which customers are told about the commission they are paying in order to ensure they receive more relevant information. These changes would apply not just to the motor finance industry, but to credit lenders in general.
The FCA is holding a consultation on its proposed new rules until 15 January 2020, with the intention of publishing the final rules later that year.
Christopher Woolard, executive director of strategy and competition at the FCA, said: "We have seen evidence that customers are losing out due to the way in which some lenders are rewarding those who sell motor finance. By banning this type of commission, we believe we will see increased competition in the market, which will ultimately save customers money."
James Fairclough, CEO of AA Cars, welcomed the news, saying: "The FCA has concluded, quite rightly, that there is no inherent problem with car finance products themselves. However customers are poorly served if they are not shown all the options best suited to them, whether through a lack of transparency, deliberate misinformation or because brokers are trying to steer them toward a particular product purely in order to secure a discretionary commission."
"Transparency and clarity are essential for the car finance industry to serve customers properly, and the FCA's proposal would make it easier for car buyers to compare different deals and shop around."
Adrian Dally, head of motor finance at the FLA (Finance and Leasing Association), added: "Today's announcement is good news for the industry and consumers, as it delivers clear rules and a consistent approach to commissions. Many lenders have already moved to the commission models that the FCA is proposing."
Do you think banning commission linked to interest rates is a good idea? Let us know your thoughts in the comments below...