What does TDI stand for?
TDI is a badge found on modern diesel cars from a variety of car manufacturers, but what does it actually mean?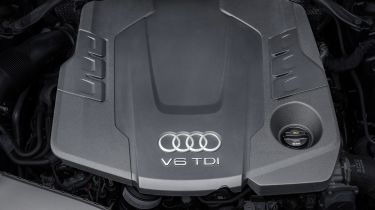 Diesel might be going through a tricky period right now, but it remains the fuel of choice for many larger cars and for anyone who needs to cover long distances. Diesel cars consistently offer better fuel consumption than an equivalent petrol car and offer comparable refinement too. Moreover new diesel cars, TDI-badged or otherwise, emit very low levels of harmful exhaust gases so the 'dirty diesel' reputation isn't always deserved.
The boom in diesel during the 1990s and 2000s is in no small part due to the many refinements and advances in diesel technology that took place during this period, and the TDI engine was a significant part of this. Volkswagen Group vehicles first introduced the term, and diesel cars from other VW Group brands like Audi, SEAT and Skoda continue to use the term today.
T for Turbo
The first part of the TDI moniker is relatively straightforward - it stands for 'Turbocharged', indicating that the car has a turbocharger fitted to its engine. A turbocharger is a compressor that is driven by the engine's exhaust gases, and compresses the intake air. This means more air is packed into the combustion chambers and so more fuel can be mixed with it, delivering more power for a given amount of fuel.
Non-turbocharged diesel engines were typically economical but low on power; since first arriving in the late 1970s, turbocharged diesels gave a much-needed power boost while still retaining the all-important fuel economy. As turbocharging technology improved, power and torque outputs continued to rise, eventually resulting in performance diesels that could rival petrol cars.
The T for turbocharged is applied almost universally by car manufacturers to indicate a turbocharged engine, whether petrol or diesel, although it is important to note that some manufacturers don't apply a 'T' to their diesel cars even though it uses a turbocharger; Mercedes-Benz CDI or Citroen's HDi.
DI explained
The 'DI' element of the TDI tag stands for 'Direct Injection', the most efficient way of getting fuel into the car's cylinders. Traditionally both petrol and diesel engines used indirect injection, where fuel was injected outside the cylinder, a system that was a hangover from when cars used carburetors.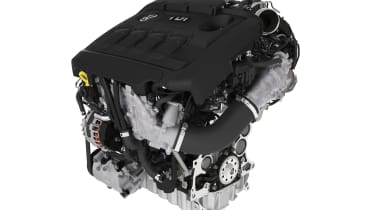 Direct injection uses more sophisticated injectors that are electronically-operated so that the amount of fuel and the timing of the injections can be precisely controlled and the injections can be made at much higher pressures. This increased level of control means the right amount of fuel can be injected depending on the driving situation, improving efficiency and power.
Other diesel engine names
Outside of Volkswagen Group vehicles there are a host of other monikers that indicate a car is diesel-powered; almost all modern diesels use a form of direct injection and turbocharging even if the tag that is applied does not necessarily indicate this.
Most often the application of the letter 'd' means a car is diesel-powered; BMW, Jaguar Land Rover, MINI, Toyota and Volvo diesel vehicles all have the letter applied at the beginning or end of the trim designation. Other manufacturers include the letter 'C' to reference the use of common-rail injection, a system that allows high injector pressures for efficiency. Hyundai and Kia call their diesels CRDi, Mercedes-Benz uses CDI, Renault and Nissan call their diesels dCi and Vauxhall use the badge CDTi.