NCAP to score on autobrake
Only cars with intelligent braking will get five stars in the new crash tests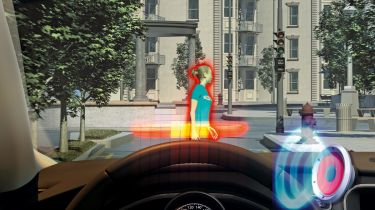 Cars will need Autobrake to get a five-star Euro NCAP rating from 2014, Auto Express can reveal. The safety system – officially known as autonomous emergency braking – uses sensors to detect an imminent collision and automatically applies the brakes to prevent a crash or reduce the impact.
Euro NCAP secretary general Michiel van Ratingen told us the technology was essential if Europe was to meet its ambitious road safety targets and reduce deaths from their current level of 31,000 a year to 15,000 by 2020.
"Autobrake is one of the top-priority safety systems," said van Ratingen. "These are going to give us big benefits. Nose-tail crashes are number one in Europe; these systems could save around 8,000 lives a year."
City systems (designed to prevent low-speed impacts around town) and inter-urban systems (which aim to reduce the impact of higher-speed crashes) will be evaluated from 2014. More complex pedestrian collision detection systems – capable of identifying and avoiding people – will be incorporated into the Euro NCAP test from 2016.
"We would expect to see all new cars fitted with the city system by 2017," explained van Ratingen. "We will also introduce lane departure warning and intelligent speed assist systems to the test in the coming years."
Euro NCAP has had great success in persuading car manufacturers to take up new safety technology. When electronic stability control was added to the test in 2009, fitment increased by 30 to 40 per cent immediately – and this year it became a mandatory part of type approval for new cars.