Increase in young drivers taking dangerous 'selfies' at the wheel
Over 10,000 'selfie' photos of people driving cars have been uploaded to social networking sites since 2010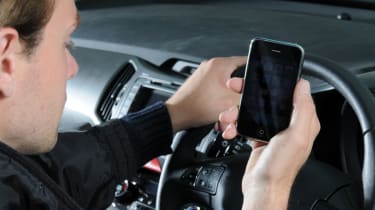 Young drivers are increasingly using social networks and taking 'selfies' while driving, endangering their own or other motorists' lives, new research suggests.
Insurance experts Confused.com surveyed 2,000 drivers and 9 per cent of those aged between 18 and 24 admitted to using photo-messaging app Snapchat when driving.
Twitter was accessed by 8 per cent of these young drivers and Instagram by 5 per cent. Around 7 per cent of motorists surveyed across all age groups admitted to taking a 'selfie' while in the driver's seat.
Worryingly, over 10,000 'selfies' taken behind the wheel have been uploaded to Instagram since it launched in 2010 and are often tagged with #DrivingSelfie or #DrivingSelfies. These are also accompanied with other hashtags like #bored, #dangerous, #LuckyWeDidntCrash, #safedriver and #LookMaNoHands.
The Oxford Dictionary crowned 'selfie' the 2013 word of the year and the term often refers to taking a photograph of yourself with a smartphone or webcam before uploading it to a social media website.
More than a third of all the 2,000 motorists surveyed said they used their phone when driving, whilst 9 per cent have suffered an accident as a result. Fines for using a mobile device while driving increased from £60 to £100 last year, but many drivers still disregard this. Around one in 10 surveyed admitted to being caught by police, but 57 per cent still committed the same offence afterwards.
What do you think about drivers taking 'selfies' at the wheel? Tell us in the comments section below...