Heavily-armed Green Hornet movie car for sale
The car from the Green Hornet movie is up for sale complete with machine guns and rocket launchers
One of only two 'hero' cars from the 2011 film The Green Hornet – a modern adaptation of the TV series in which Bruce Lee shot to fame - is due to be auctioned next week by Massachusetts-based RR Auctions.
The 1965 Chrysler Imperial – renamed Black Beauty for the film – was built by Dennis McCarthy of Vehicle Effects based in California. Twenty-nine cars were built for the production, but all apart from two were either stripped-down stunt models or destroyed during filming.
The example on offer in the RR auction features the original 413 engine, has 71,421 miles on the clock and retains its original black headlining and leather seats.
There are a host of exterior modifications on Black Beauty, with the most notable being the two bonnet-mounted Browning .30 cal machine guns. Add to these 12 Stinger missiles to the front and rear bumpers, a grill-mounted flame-thrower and green headlights and it will be hard to miss in the supermarket car park.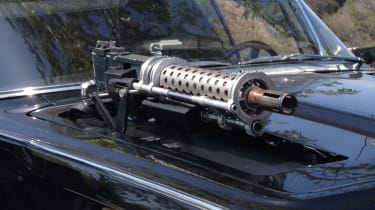 Further exterior features of the film car include butterfly doors, the Green Hornet emblem on the bootlid, a Bond-style revolving rear number plate and 20" wheels.
On the inside, an embossed Green Hornet-lined boot and a substantial Sony stereo system feature – no surprise as Sony made the film – as well as a working light-up interior labeled in Chinese.
Which TV or movie car would you most like to own? Let us know in the comments section below…