Caparo T1 Evolution: British hypercar teased
Limited edition take on already exclusive, F1-inspired Caparo T1 teased as order books open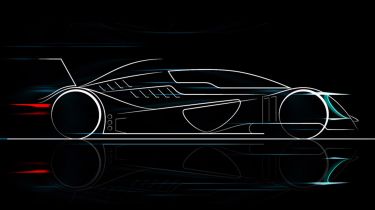 British automotive engineering firm Caparo has opened order books for its new, limited-edition T1 Evolution hypercar, despite not yet revealing what it'll actually look like.
While we've only got one stylised teaser sketch to go by, it should share the overall F1-inspired look of the original T1 on which it's based, right down to the large front and rear wings, and the bulging engine air intake located just behind the two-seater cabin.
• Fastest cars around the Nurburgring
Caparo is promising new "ultra-modern" aerodynamic visual add-ons though, as well as "hugely improved technical specification and performance". The firm isn't giving too much away in terms of specific details, but the bespoke powertrain will apparently generate up to 700bhp, a significant boost over the 575bhp managed by the original T1's 3.5-litre V8.
A safer chassis set-up and stiffer suspension will be fitted as well, with ABS, traction and stability control completing the raft of performance-oriented upgrades.
• Fastest laps of the Auto Express test track
Inside the redesigned cockpit, Caparo looks set to improve driver comfort by offering a wider range of information systems, including telemetry and communications tech.
Customers can also select Silver, Gold or Platinum parts for their T1 Evolution, either at the point of purchase or as an aftermarket extra, with as-yet-unspecified Virtual Engineer packages available, too.
There's currently no word on price from Caparo, but buyers shouldn't expect much change from £250,000.