"Your future car could be like a butler, and sooner than you might think"
Editor-in-chief Steve Fowler on the amazing car tech that will change our lives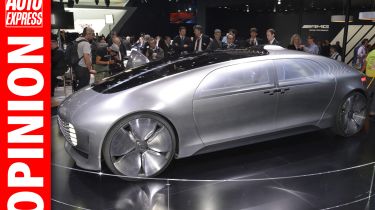 We're in Detroit this week for the year's first motor show, but I was in Las Vegas last week for the annual Consumer Electronics Show – an event that dwarfs even the biggest car show in the world.
Among the smartphones, TVs and wearable tech were 10 major car makers exhibiting. Even more were walking the halls, meeting suppliers and partners, and encouraging developers to think of ways to improve car drivers' lives.
The show's theme was The Internet Of Things, proving how connectivity can improve just about everything we do. We already know plenty about autonomous cars, and that was definitely on the agenda here, not least with Mercedes' concept car – the first (of what I suspect will be many) ever revealed at CES.
But soon, our cars will be learning about our driving habits and communicating with each other and the world around us for more efficient, relaxing journeys – that will revolutionise our driving.
Speak to the guys at Jaguar Land Rover – who are opening up their technology platforms to encourage fresh thinking from the new generation of developers – and it's clear your car could be like a butler. It'll ask you if you want to turn the heating on as you head home, or if you want to ring your mother as you usually do when driving home on a Wednesday. All because it's became attuned to your driving habits.
Ford told us about cars sharing information about parking spaces with each other and combining that with stored data on prices to guide you to the best available spot. And GM's OnStar system is being developed so it can suggest savings, offers or deals based on your driving habits.
Driving is set to become a whole lot easier, yet more rewarding. And the tech will be here sooner than you might think.