Electric cars could get priority at city road junctions
New clean air zones could be introduced in five UK cities under new proposals, allowing new road layouts to prioritise EVs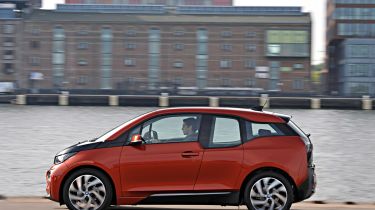 Looking to buy an EV in London? The incentive to do so may become greater than ever under new Government proposals. 'Clean Air Zones' could be brought in that allow electric vehicles to be given priority at junctions.
Five UK cities are being considered for the programme, with Clean Air Zones to be introduced by 2020. Interestingly, the UK capital isn't currently one of them - the Department for the Environment, Food and Rural Affairs (Defra) wants Birmingham, Southampton, Nottingham, Derby and Leeds to bring in the zones.
• Best electric cars to buy now
According to the BBC, the zones can be controlled by local authorities allowing new road layouts to be built around electric cars. In theory, this means the EVs could be allowed to bypass one-way systems or filter through junctions ahead of conventionally fuelled vehicles.
The Clean Air Zones are necessary to allow the Government to meet European limits on air pollution - as ordered by the Supreme Court. Local pollutants such as nitrogen dioxide are to blame for tens of thousands of deaths each year in the UK.
It's hoped that the schemes will greatly encourage the take-up of electric vehicles. The number of ultra-low emission vehicles - including plug-in hybrids and pure electric cars - registered in the UK has increased by 250 per cent in two years and the Government has also announced a £35million investment to encourage more low-emissions vehicle ownership.
What do you think of plans to priorities EVs in cities? Let us know in the comments...