Shopping around for car finance can damage your credit rating
Hard credit checks are altering buyers' credit scores, costing those who shop around for car finance an average of £375 each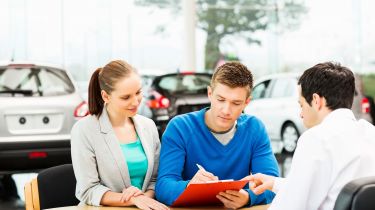 Car buyers who shop around for the best finance deal are losing £100million a year, as unregulated lenders damage their credit scores with unnecessary checks.
Motorists who visit multiple loan providers in search of the best rates are being punished the more they hunt for deals, because lenders conduct hard credit checks before providing final interest rates – which act as a serious red flag on your credit profile.
Hard credit checks show up as loan applications, and multiple records of these can lead to buyers being charged higher interest rates or refused finance altogether in the future.
A new report by the TSB Bank found 61 per cent of personal loan lenders were guilty of the practice, with car buyers losing an average of £375 each, totalling around £100million every year.
The impact of these hard checks on car buyers is supported by our exclusive poll, which found 22 per cent of drivers had been refused finance and 17 per cent were quoted APR interest rates of five per cent or higher than the standard.
Nick Smith, head of TSB's personal loans, said hard checks "absolutely" play a role in punishing buyers. He added: "Not only could this result in having to pay a higher price for lending, it could also increase the probability a customer will be declined." Smith also called on the Financial Conduct Authority (FCA) to require lenders to issue soft credit checks that do not appear on the credit file.
Graham Hill, director of the National Association of Commercial Finance Brokers, told Auto Express: "Our credit system, which seems very detailed these days, is in fact very naïve and full of loopholes."
Hill advised buyers with multiple hard checks on their file to issue a Notice of Correction to improve their chances of obtaining fairer interest rates. "Any entry in the Notice of Correction box forces an underwriter to review your application," Hill added.
Have you had problems applying for car finance? Let us know in the comments section below...