New documentary goes behind the scenes at Le Mans
Amazon Prime series gets a close-up look at the world-famous 24-hour race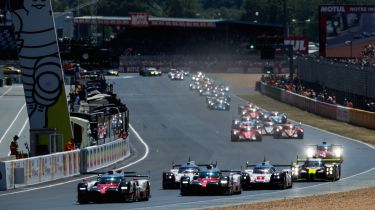 Last weekend's Le Mans 24 Hours was one of the most dramatic in the race's history, with the winning Porsche fighting back to the front after losing time to repairs and the winner of the GT class only being decided by a frantic last-lap battle between Aston Martin and Corvette.
It's not surprising, then, to learn that Amazon Prime Video has sought to capture some of the annual French event's legendary drama for the small screen, in the form of its new series 'Le Mans: Racing Is Everything', which is available for Amazon Prime users to stream now.
Produced by London company New Black Films, the series offers access to the entire 24 hours of the race while exploring the legacy of Le Mans and some of the famous drivers who've contested it over the years.
Crews were embedded with the Porsche, Audi, Nissan, Toyota, Aston Martin and Rebellion teams at recent Le Mans to get an inside view of the build-up, race week and event itself – which is one of the highest attended single-day sporting events in the world.
Featured drivers include ex-Red Bull F1 ace Mark Webber, German three-time Le Mans winner Andre Lotterer, Nico Prost (son of F1 legend Alain) and Jann Mardenborough, who has become a real-world professional racing driver after winning the PlayStation 'GT Academy' competition for virtual racers.
"Fans are consistently thrilled by the excitement and danger [of Le Mans]," said Conrad Riggs, head of unscripted at Amazon Originals. "Le Mans: Racing is Everything will take that excitement to the next level, giving Prime members behind-the-scenes access to what it takes to win this singular event."
Director James Erskine added: "We'll raise the veil on the pressure that racing cars to the limit puts on the teams and drivers, in a unique human-interest-driven series that will take a 360-degree look at what it takes to participate, organise and ultimately … win what is unquestionably the toughest race in motorsport… This is racing as you've never seen it before."
Le Mans: Racing Is Everything is produced by Victoria Gregory (who also worked on the widely praised Ayrton Senna documentary directed by Asif Kapadia) and is available for Amazon Prime Video customers to watch now.
Read more about Le Mans 2017 on our sister site evo...