UK's first pay-per-mile car insurance launches
By Miles sees drivers pay per-mile rate plus flat annual fee to cover their car, targeting those driving less than 7,000 miles per year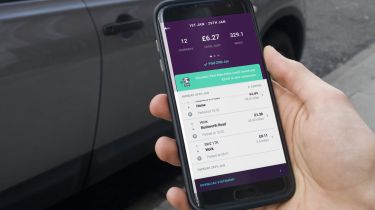 The UK's first pay-per-mile car insurance company has been launched, potentially allowing drivers with low annual mileages to save on their car insurance.
Aimed at drivers who cover fewer than 7,000 miles a year - roughly 140 miles a week - customers taking out insurance with By Miles will pay a flat-rate annual fee to insure their cars against theft or damage when parked. They are then charged a variable rate based on how much they actually use the car.
• Best car insurance companies
Mileages are measured using a telematics device plugged into a car's On Board Diagnostics (OBD-II) port, which typically located under a panel below the steering wheel. Drivers can track journey-by-journey mileages and charges using a dedicated smartphone app, and will be billed each month based on how far they've driven.
Crucially, drivers will not be charged more depending on how or how fast they drive, and By Miles says they will "never share any of your personal driving data with the police, unless we are obliged to as a direct result of a court order."
Launched last year as a start-up – albeit one with backing from Jaguar Land Rover - By Miles has now begun selling its policies, which are underwritten by AXA. While a number of insurance companies provide cover for low-mileage drivers, these typically charge by the day or by the hour, or require consumers to predict how much they will use their cars, purchasing additional miles if that limit is exceeded.
By Miles insurance, on the other hand, chargers drivers based on precisely how much they drive – though the cost-per-mile depends on factors such as age, no-claims bonus status, the type of car being insured and its overnight location.
The minimum flat-rate charge is £150 a year, while minimum distance-based charges set at 3p per mile. A quick tinker with By Miles' online calculator saw these charges rise to £315 a year and 8.5p per mile for a 25-year old Londoner with a two years' no-claims bonus, driving an average large family car. By Miles will not charge for the mile after customers exceed 150 miles a day, or 10,000 miles a year.
James Blackham, co-founder and chief executive of By Miles, described car insurance as "a product that's barely changed in 30 years." Blackman said his company's intention is "to make car insurance fairer, and the whole experience of owning a car much easier."
• Car insurance: how to save money and get a cheaper quote
"Every extra mile you drive adds to the risk of an accident," explained Blackhan. "We think it's high time that this is reflected in the price infrequent drivers pay."
Commenting on pay-per-mile insurance, Matt Cullen, head of strategy, data and analytics at the Association of British Insurers said: "The motoring environment continually changes, and motor insurance adapts to meet changing driving habits and consumer needs. This takes the form of innovative policies to cover 'on demand' motoring, telematics devices and smartphone apps."
Does pay-per-mile car insurance sound appealing? Tell us in the comments...