MOT test fail for DPF removal
Diesel particulate filter check will now be part of the stricter MOT test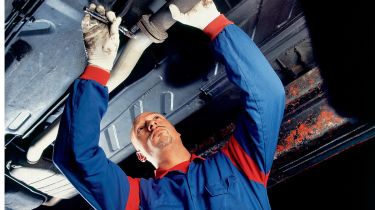 The MOT test for diesel cars will be tightened up from February 2014 and any car that is missing a diesel particulate filter (DPF) once fitted as standard will fail.
Currently a car is only tested on the emissions, and not if it has a DPF still attached. However, this will change with garages and testing centres now required to check that the part is still present.
Companies across the UK offer to remove the DPF for motorists in a bid to avoid costly repairs. The filter has to be regularly regenerated to burn off soot that builds up over time by driving the car up to 40mph for more than 10 minutes – often done on motorway journeys.
However, if this isn't done then it can lead to the filter becoming clogged with prices for a new part costing upwards of £1,000. In order to avoid such problems, some drivers will get the part removed.
This practice has always been illegal, contravening the Road Vehicles (Construction and Use) Regulation 61 A as it no longer meets emission standards applied to it when new, but companies continue to advertise the practice.
Roads Minister Robert Goodwill said: "I am very concerned that vehicles are being modified in a way that is clearly detrimental to people's health and undoes the hard work car manufacturers have taken to improve emissions standards.
"This change to the MOT tests makes it clear – if you have this filter removed from your car it will fail the test."
A spokesman from the Department for Transport told us that anyone that has had the filter removed, will now have to a new one put back on their car in order to pass their next MOT test.