Unfinished roadworks cause misery for UK drivers
Around 25,000 incomplete roadworks currently on British roads, covering 2,387 miles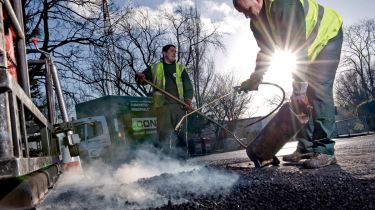 There are almost 25,000 incomplete roadworks projects currently across the UK, according to research by breakdown company LV= Road Rescue.
The unfinished projects covers an estimated 2,387 miles of British roads, with some of the oldest existing roadworks still not completed after 18 months.
A survey of UK motorists by the company found that roadworks now affect a third of their journeys and, on average, adds an extra 12 minutes to their travel.
• Italy worst country to drive in, say British motorists
Of the councils that responded to the FOI request, Suffolk County Council has the most outstanding road maintenance projects (1,906) followed by Leicestershire County Council (1,250) and Derby City Council (930).
The company also found that Oxford Street in London had been subject to 2,310 roadworks over the past five years.
Peter Horton, Managing Director of LV= Road Rescue, comments: "Local authorities face a difficult challenge to repair and maintain our roads this year, particularly given the impact of the adverse weather we have seen in recent months. With more cars on the road than ever, it will be hard to carry out roadworks without impacting drivers."
• Twelve-year wait for pothole repair in UK
Cllr Peter Box, Chairman of the Local Government Association's Economy and Transport Board, said: "Councils always look to ensure essential work by their highway teams is carried out efficiently and to a high standard. We also work with utility firms to make sure they keep disruption to an absolute minimum and that works are co-ordinated and planned effectively.
"We share the frustration of motorists about the state of our roads. Decades of underfunding have trapped councils in an endless cycle of only being able to patch up our road network."