UK trails EU on rear-facing child car seat laws
Change to UK regulations on 'i-Size' child car seats still to be approved 18 months after EU law changed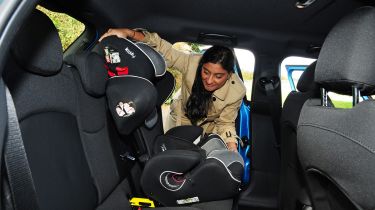 A new regulation improving child safety in cars still hasn't been approved by Parliament – 18 months after it was launched in the EU.
The R129, or i-Size, regulation will allow parents to use a safer standard of car seat that'll keep babies rear-facing until they're 15 months old. The current regulation, R44.04, lets them switch to a forward-facing seat from nine months. However, safety experts say at this age a baby's neck is too weak to tolerate the forces from a front impact, bringing a high risk of spinal injury or death.
• End of the paper driving licence
i-Size seats will have passed a new side-impact test and will be attached via the car's Isofix points. Seat types will be organised by a child's height, not weight. 
The new rules initially apply only to five-point harness seats. UK legislation only needs to be amended to allow the use of the new regulation, which will run next to the old one until it's appropriate to make the full switch. The Netherlands and France allowed i-Size as soon as it was introduced to the EU in July 2013.
• UK driving licences to display Union Flag
Kevin Clinton, head of road safety at the Royal Society for the Prevention of Accidents, said: "It's frustrating that UK legislation has not yet been amended. It needs to be updated as soon as possible to resolve this unacceptable situation."
Confusion between EU approval and national legislation means some retailers, including Mothercare and John Lewis, already sell i-Size seats. The Association of Chief Police Officers warns against using them. A spokesman said: "Until UK legislation is in line with the new standards, it is technically unlawful to fit and use one of the new regulation seats."
The Department for Transport hasn't explained the legislation update delay, but says the Parliamentary approval process should begin this month.
Now find out about the safest cars on sale in the UK...