UK driving licences to display Union Flag
New look UK driving licence photo card to feature Union Flag in England, Scotland and Wales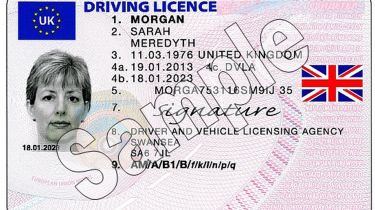 The Government today announced plans to play the patriotic card by adding a Union Flag to all new UK driving licence photo cards in the near future.
The move was announced by transport minister Claire Perry who explained the thinking behind it. "People in this country rightly take pride in our national flag which is why I am delighted it will now be displayed on British driving licences.
• End of the paper driving licence
"Celebrating Britain strengthens our sense of national identity and our unity. I will feel proud to carry my new licence and I hope others will too."
Accompanying the announcement came an image revealing how the new driving licence photo card "could look". The picture shows a photo card complete with Union Flag in addition to the European Union flag which already appears on UK driving licences. The Union Flag is set to find its way on to all new driving licences issued in England, Scotland and Wales from an as yet unspecified date in the not too distant future.
The Union Flag's arrival on licences comes hot on the heals of other more impactful announcements affecting UK motorists. The tax disc met its end on October 1st 2014 while the DVLA announced a drop in driving licence fees later that month. We also learned that the paper counterpart to the UK licence is set to be phased out on June 8th 2015.
Are you happy to see the Union Flag appearing on driving licence photo cards? Let us know in the comments section below...