Over 18 million illegal tyres estimated on UK roads
Survey finds an increasing number of motorists replacing their car tyres when they're below the 1.6mm tread limit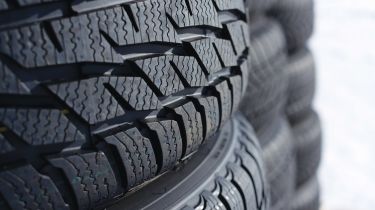 More than 18 million UK drivers are estimated to be on the road with illegal tyres – a figure that's trebled in the last seven years. Surveying over 100,000 tyres each year, tyre retailer Micheldever reports a continuing rise in the number of tyres breaching the 1.6mm tread limit. 
The survey also found 40 per cent of motorists do not know what the legal limit is, and 13 per cent believe tyre maintenance is the responsibility of the garage and not the owner.
These numbers are in stark contrast to the increasingly safety conscious nature of the UK motorist. More than half of car buyers say that ABS is an essential feature on their new cars, a third say they look for traction control and 60 per cent insist the car comes with quality tyres. 
• Best tyres: the 2015 Auto Express tyre test
Yet these motorists aren't placing similar emphasis to the maintenance and monitoring of those tyres. Tread level plays a decisive role in the performance of tyres. Research has shown worn out tyres increase wet braking distance by 14 meters from 50mph to standstill. Each illegal tyre can also account a £2,500 fine and three penalty points.  
Micheldever's chief executive, Duncan Wilkes said: "Specifying safety kit at the point of purchase is commendable, but this research exposes a serious contradiction with how motorists maintain their vehicles in the long term." 
It's not a fault with young drivers skimping on running costs, either, as 69 per cent of motorists in the survey had been driving for more than 10 years.
Wilkes added: "As the level of technology in modern cars has increased, so the level of responsibility drivers take for safety seems to diminish."
Top tips for tyre monitoring
A simple way to monitor your tyres is to ACT: Air pressure, Condition, Tread
• Air pressure: Having your tyres at correct pressures not only saves fuel but also decreases wear and the risk of loosing control of the vehicle. Check your air pressures and adjust them at regular intervals.
• Condition: Inspect your tyres at regular intervals for tears, bulges or any other anomalies that may affect the performance of the tyres.
• Tread Depth: Most tyres come with tread indicators showing the minimum tread level allowed, check these at regular intervals.
However, if your tyres do not come with these and you do not own miniscule rulers, TyreSafe recommends the 20p test. Insert the 20p coin into the main grooves at several places around the tyre and if the outer band of the 20p coin is visible the tyre may be illegal. 
How often do you check your car's tyres? let us know in the comments section below...