Risk of pothole-related breakdowns doubles in 13 years
Motorists are now more than twice as likely to break down as a result of hitting a pothole than 13 years ago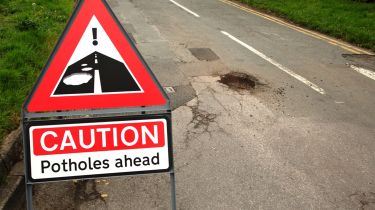 Motorists are around 2.5 times more likely to suffer pothole-related breakdowns than 13 years ago. In 2018, the RAC dealt with 13,093 breakdowns relating to poor road surface conditions.
That means pothole damage accounted for 1.4 per cent of all RAC call-outs last year. Although this figure is actually lower than last year's 1.5 per cent, it's still not far away from the all-time high of 1.6 per cent seen in 2015 and 2017. 
• Potholes costing drivers £1 million a month
Meanwhile, the number of pothole-related breakdowns – such as damaged shock absorbers, broken suspension springs and distorted wheels – attended by the RAC in the last three months of 2018 stood at 1,714 – 0.8 per cent of the 217,966 breakdowns attended in that quarter.
The RAC's Pothole Index – a long-term indicator of the health of the UK's roads – shows a third successive quarterly fall, offering some hope for motorists.
The poor state of local roads was identified as motorists' main concern in the RAC's 2018 Report on Motoring, though, with 42 per cent of 1,808 respondents citing it as one of their top four worries, compared with 10 per cent in 2017. 
Furthermore, 66 per cent said the condition of local roads had deteriorated in the previous 12 months, compared with 50 per cent in 2017. 
In addition, an RAC Freedom of Information request to 212 councils in England, Scotland and Wales found 512,270 potholes were reported for repair in 2017 to 161 authorities – an increase of 44 per cent on two years earlier.
RAC Breakdown spokesperson Simon Williams said the figures showed a "slightly more encouraging picture" of the UK's road quality, but warned we are "far from having the beautifully smooth roads that motorists would like". 
He added: "Those responsible for our roads have much to do to restore drivers' faith, as too many suffer the consequences of potholes on a daily basis."
Find out how to claim for pothole damage to your car here...