Breakdowns following pothole strikes surge by highest rate ever seen
Report shows 37 per cent increase over the last quarter, as breakdown firm warns roads "are like the surface of the moon"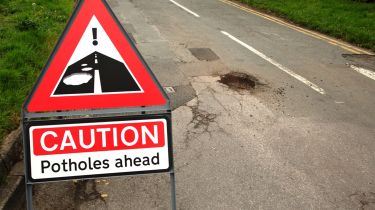 The number of drivers breaking down with pothole-related damage such as buckled alloy wheels, broken shock absorbers and snapped springs increased by 37 per cent in the first quarter of 2021 compared to the same period last year, the RAC reports.
The breakdown firm logs all breakdowns where pothole strikes are the suspected culprit, with roadside technicians attending 4,694 such incidents in the first three months or 2021, up from 3,426, and equivalent to 52 drivers a day breaking down after hitting a pothole.
As well as being a huge rise compared with the first three months of last year, that figure represents three times more pothole strikes than were attended in the final quarter of 2020. The RAC says this is the largest rise between quarters it has ever seen.
A total of 2.4 per cent of all RAC callouts between January and March followed pothole strikes, with the colder weather seen over this period the likely culprit, as water freezing and expanding in cracks in the road is one of the key causes of pothole formation.
The rapidly rising incidents "put into sharp focus the enormous task now facing local and national governments to bring road surface standards up to a reasonable level", the RAC says. A £2.5 billion 'pothole fund' was announced in 2020's Budget for the 2020/21 to 2024/25 financial years.
The RAC's Nicholas Lyes said some roads "resemble the surface of the Moon", and it was an "uncomfortable truth" for drivers and authorities that many are "in a desperate state".
Lyes warned that "the problem risks getting even worse as pandemic restrictions are eased and the roads get busier", adding that his company's latest data "should herald a watershed moment where authorities finally acknowledge the perilous state many roads are currently in...Potholes are a sign of broken roads, but they are also a sign of the broken nature of how the roads are looked after and paid for."
Find out how to claim for pothole damage to your car here...