UK speed humps: should they stay or should they go?
Plans to remove speed humps from UK roads have been labelled as "daft and irresponsible" by road safety campaigners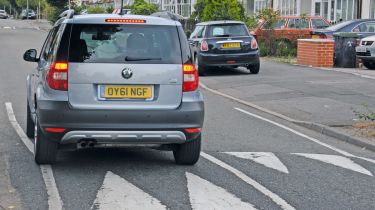 Government plans to remove speed humps in order to improve air quality have been attacked by road safety campaigners.
Last month's air quality plan highlighted the need for councils to reduce congestion in urban areas to help cut back pollution levels and the suggestions put forward by the Government include removing speed humps in congested areas so traffic flow could be improved. The thinking is that speed bumps cause drivers to repeatedly accelerate and brake, leading to higher emissions levels in the urban areas where they tend to be used.
But these plans have been labelled as "daft and irresponsible" by road safety campaigners who believe they will lead to more accidents. To find out whether speed humps should be removed from our roads or not, Auto Express has assembled the key arguments from the pro and anti speed hump camps.
Why we should keep speed humps
Speed humps are critical to road safety as they prevent drivers from speeding, especially in built up areas and school zones. That's the crux of the argument set out by the pro-speed hump lobby and it was clearly in line with Government thinking until recently speed humps were allowed to proliferate on our streets.
Living Streets, a children's safety campaign has labelled the plans to get rid of speed bumps as "daft and irresponsible". Speaking to the BBC, it said it was worried that if councils removed speed humps without installing other measures to slow down drivers, children would be at a greater risk when walking to school.
It pointed out that this increase in risk could cause more parents to opt to drive their kids to school, causing a rise in congestion and pollution.
• Diesel ban? Clean Air Zone expansion could see diesel cars charged to enter UK cities
Cycling UK, a charity supporting cyclists in the UK, said removing speed bumps would cause more accidents and fatalities on UK roads, as cars would be forced to slow down less.
Why speed humps should go
An earlier report by the National Institute for Health and Care Excellence (NICE) suggested removing speed humps, introducing more variable speed limits and creating 'no idling zones' for cars as possible measures to improve traffic flow.
The report by NICE highlighted that reducing 'stop and go' driving will help reduce congestion and in turn pollution on our roads.
It encourages councils to consider ways to 'smooth' out driving habits. It also points out that there are individual cases where evidence has shown that speed humps have increased vehicle emissions, but points out that this is not always backed by studies examining larger transport networks.
Health experts believe that by bringing in measures to stop drivers speeding up and slowing down, emissions can be hugely reduced - road traffic causes more than 64 per cent of air pollution in urban areas. Air pollution and its health impact also costs the UK up to £18.6 billion a year.
An alternative to speed bumps suggested in the report is the introduction of 20mph speed zones in areas with stop-start traffic while real-time 50mph variable speed limits should be brought in on congested motorways to encourage free-flowing traffic.
Speaking to the BBC, Hugh Bladon, from the Alliance of British Drivers, said he welcomed the decision to remove speed humps as they increase pollution and decrease fuel economy due to drivers having to accelerate and decelerate.
The Government said that any changes to road layouts to improve air quality would not come at a cost to road safety.
Would you like to see speed humps gone or not? What will the impact on road safety be? Let us know in the comments below...