Driving when tired is equivalent to driving when drunk
Researchers from from UCLA and Tel Aviv University find "severe fatigue exerts a similar influence on the brain to drinking too much"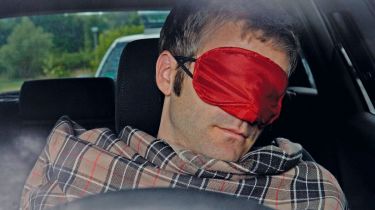 Scientists from UCLA and Tel Aviv University studied patients experiencing fatigue and found their brains became slower and less efficient at perceiving and assessing visual images. The effect of this neurological slowdown was directly compared to drink driving.
By inserting electrodes into patients' brains and measuring the responses of 1,500 brain cells in areas that process visual perception and memory, researchers found subjects became less able to translate "visual input into conscious thought."
• UK drink driving laws explained
Dr. Itzhak Fried, the scientist leading the study, said more should to regulate tired drivers: "Severe fatigue exerts a similar influence on the brain to drinking too much" Fried explained; "Yet no legal or medical standards exist for identifying overtired drivers on the road the same way we target drunk drivers."
Fried went on to explain that the neurons in his subjects' brains "responded slowly and fired more weakly, and their transmissions dragged on longer than usual". In his view when put behind the wheel of a car, perception and visual processes would slow down when a driver was tired: "The very act of seeing the pedestrian slows down in the driver's overtired brain", Fried said. "It takes longer for his brain to register what he's perceiving."
The patients were asked to categorise a variety of images as quickly as possible, and the researchers found that as "the patients slowed down, their brain cells did, too."
This latest study follows previous research that reached similar conclusions. According to a study by the AAA Foundation for Traffic Safety, losing out on just a few hours of sleep the night before puts drivers at nearly twice the risk of crashing compared to those who've slept the recommended seven or more hours.
The study found that a lack of sleep has similar effects to being drunk, with slower reaction times and a shorter attention span. The Sleep Council estimates that a third of Britons get just five to six hours of sleep a night, putting them at 1.9 times the normal risk of crashing.
• UK tech firm unlocks secret to charging EVs in seconds
Reviewing the causes of 4,751 vehicle accidents in the US, the research found that driver drowsiness has caused seven per cent of all crashes and 21 per cent of all fatal accidents. In the UK, driver fatigue has been linked as a contributory factor in one in ten road fatalities.
A recent report by the AA found that one in seven drivers in the UK admit they regularly suffer memory blanks while driving, with 15 per cent unable to recall the last few moments of a journey.
| | |
| --- | --- |
| Level of sleep | Risk of crashing |
| 6-7 hours | 1.3 times normal risk |
| 5-6 hours | 1.9 times normal risk |
| 4-5 hours | 4.3 times normal risk |
| Less than 4 hours | 11.5 times normal risk |
Dr David Yang, executive director for the AAA Foundation for Traffic Safety said: "You cannot miss sleep and still expect to be able to safely function behind the wheel. Our research shows that a driver who has slept for less than five hours has a crash risk comparable to someone driving drunk."
Edmund King, president of the AA, said: "Even in the UK we estimate that up to 10 per cent of motorway fatalities may be due to drivers falling asleep. The usual characteristics are a lack of braking before impact and single vehicle collisions."
Have you driven while tired? Did you notice a difference? Tell us in the comments below...