New UK speeding fines: law changes explained
Band A speeding fines remain the same, but the worst offenders will see penalties rise by 50 per cent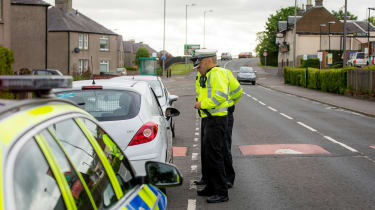 New UK speeding laws will ensure that the most serious speeding offenders will now face 50 per cent higher fines after new legislation aiming to reduce high-speed accidents came into force at midnight on 24 April 2017.
Drivers caught speeding far in excess of the speed limit who are summoned to court instead of handed a fixed penalty notice will now face fines that have a starting point of 150 per cent of their weekly salary, up from the current base of 100 per cent, according to new laws by the Sentencing Council.
• UK speeding tickets and how to appeal
The new fines will only apply to Band C court sentences (see table below). Fixed penalty notices handed out to drivers on the road will remain the same - with a minimum penalty of £100 and three penalty points. Drivers who are handed a court summons for the lower, A and B categories, will not be affected by the new laws, but can still face a fine of 125 per cent of their weekly salary if they lose their appeal.
However, the upper limit for all speeding fines remains the same. This means that drivers can still only face a maximum of £1,000, regardless of their weekly earnings or speed infringements, or £2,500 if they're caught on the motorway. 
It should also be noted that while speeding penalties are changing in England and Wales, there are no new speeding fine directives for Scotland.
The Sentencing Council said the speeding fines increase would reflect the escalation in potential harm that can result at higher speeds. What categorises a driver caught speeding as a 'serious offender' is the amount they exceed the speed limit by and that amount differs between the different speed limits. The average speeding fine in 2015 was £188, with the courts sentencing 166,695 speeding offenders in that year.
New speeding fines chart
 

 

Speed limit (mph)
Recorded speed (mph)
20
41 and above
31 – 40
21 – 30
30
51 and above
41 – 50
31 – 40
40
66 and above
56 – 65
41 – 55
50
76 and above
66 – 75
51 – 65
60
91 and above
81 – 90
61 – 80
70
101 and above
91 – 100
71 – 90
Sentencing range
Band C fine
Band B fine
Band A fine
Points/disqualification
Disqualify 7 – 56 days OR 6 points
Disqualify 7 – 28days OR  4 – 6 points
3 points
• Police make £1.6bn on cars seized from uninsured drivers
Sentencing Council member and district judge Richard Williams said: "The magistrates' courts deal with the vast majority of offenders in England and Wales, so it is essential that the guidelines they use are up to date and help ensure that sentences are applied consistently and effectively. 
"We have listened to the views of magistrates, criminal justice professionals and others with an interest in particular offence types in developing these guidelines. We are grateful to all those who responded to the consultation and helped shape the final versions that will be used in courts."
What do you think of the new, higher speeding fines? Tell us in the comments below...