UK's 10 busiest speed camera locations make £3m per year
A new study found the top 10 highest earning speed camera locations fined motorists over £3 million over a year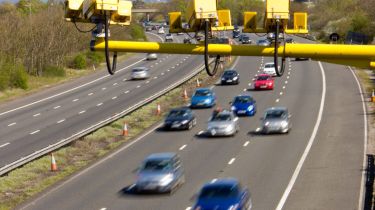 Britain's most profitable speed camera locations have been revealed in a new study, with one camera earning more than £1,600 a day from speeding motorists.
A speed camera on the A1 Northbound at Great Ponton, Lincs, caught more than 6,000 motorists in 2015, earning £606,400 in fines, which amounts to daily earnings of £1,661, the report from insurer Carole Nash reveals.
The second most prolific speed camera was on the M180, West of River Trent, near Scunthorpe, which caught 5,835 motorists over a year and earned £583,500 in fines. In total, the report found the top 10 earning speed cameras in Britain earned £3,164,100 from speeding motorists.
• UK speeding fine appeals are a postcode lottery
Three of the 10 most profitable cameras were all located on the M25 motorway, netting £1,167,200 from drivers in 2015. A camera between Junctions 17 and 18 of the M25 near Rickmansworth, was responsible for 5,835 speeding tickets in a year, with motorists travelling at an average of 62mph in the 50 zone.
The minimum penalty for speeding is a £100 fine and three penalty points, though new laws introduced in April mean drivers caught seriously speeding, and who lose their court appeal, face fines starting from 150 per cent of their weekly salary.
| | |
| --- | --- |
| Speed camera | Earnings |
| A1 Northbound, Great Ponton | £606,400 |
| M180, West of River Trent, Scunthorpe | £583,500 |
| M25 J17-18 | £538,500 |
| M25 J5 Clacket Lane Services, Westerham | £373,300 |
| A12 Southbound, Stratford, St Mary | £305,400 |
| M25 J18-17 Rickmansworth | £255,400 |
| A22 Eastbourne Road, Halland | £167,100 |
| Esher Bypass, Hook | £149,700 |
| A14, Bythorn, Cambridgeshire | £121,200 |
| A34 Southbound, Milton | £63,600 |
Rebecca Donohue, head of marketing at Carole Nash, said: "With some speed cameras issuing tickets that amount to well into the hundreds of thousands it's understandable that, at times, motorists feel like they are being taxed again."
However, police and road safety experts have said speed cameras are an effective deterrent against speedsters and help reduce fatal accidents.
• Speed camera detectors: 2016 group test
Roads policing specialist, Sergeant Mark D Lucas of the Metropolitan Police said: "Cameras can catch far higher numbers of speeding motorists than traffic police with mobile cameras, and at much lower cost, freeing up police for other duties that cannot be conducted by technology, such as breath-testing.
"Cameras will also pay for themselves several times over in the money saved to the economy by preventing deaths and serious injuries. Road crashes were estimated to cost the economy £16.3billion in 2014 due to human costs and costs to emergency, health and criminal justice services."
What do you think of the speed camera profit numbers? Tell us in the comments below...