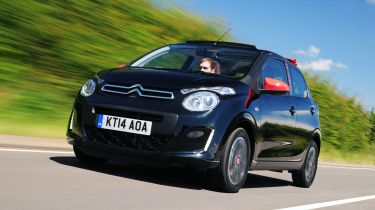 Our pick: 1.0 e-VTi Flair 3drPrice: £10,435
The latest city car from the Citroen/Peugeot/Toyota family has been given an overhaul. When equipped with stop/start, the three-cylinder C1 emits just 88g/km of CO2 and claims 74.3mpg economy.
The C1 gets off to a good start with its distinctive take on the split headlight arrangement from Citroen, and various contrasting colour options, inside and out.
Although the styling is entirely new, the C1's platform is carried over from its predecessor, so the rear seats are still cramped and the boot is still small. 
Refinement has improved, although the engines are still quite noisy at high revs, while the ride is bouncy but supple enough over bumps and cracks. Alongside three and five door versions of the hatch, a new Airscape version adds an electric peel back fabric roof in the mould of the Fiat 500C.