Avon ZV7 review
The Avon ZV7 is the cheapest tyre on test, but it beat higher-priced rivals in some areas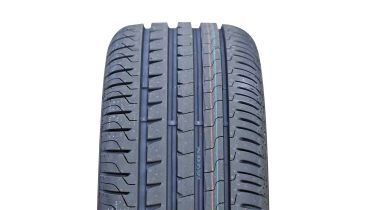 In association with

Our last test in this size marked the return of British brand Avon to our assessments, after a break of more than a decade. It finished last then, but it is back again with the same ZV7 and has made progress, because it has not only gained one place, but it is also a step closer to the top performers.
Yet again we found its A-rated wet grip label at odds with our results across six tests, rather than just the braking of the EU grading. The Avon has improved since last time, not only beating the struggling Dunlop and puzzling Pirelli, but also matching the Bridgestone and Nokian, although there still areas of concern.
The ZV7 really doesn't like deep water, particularly when the grooves are distorted during cornering. On the wet circuit, grip levels were a notch lower than the best but the car was stable, with front grip limiting progress through turns and on the throttle.
The ZV7 was a little closer to the pace in the dry, but it was still at the bottom of the results. The same wet-track stability is there in the dry, but the tyre feels soft and lacks sharpness, although grip is acceptable.
Fuel economy looks a long way off, but the Avon is right in the middle of the pack behind the super-frugal Bridgestone.
We say...
No tyre maker wants to finish in the bottom two, but Avon can take heart that it's closing on its rivals, even if it still has a way to go.
Blackcircles.com says…
"Those who have ordered this big-seller have left good reviews, with strong grip in various conditions being singled out. The Avon has a score of 4.6/5 from more than 10,000 reviews."
Figures
| | | |
| --- | --- | --- |
| Avon ZV7 | | |
| Overall: | 97.40% | |
| Price: | £74.70 | 1st |
| Wet handling: | 97.40% | 6th |
| Wet braking: | 87.90% | 6th |
| Wet cornering: | 96.70% | 7th |
| Straight aquaplaning: | 90.40% | 10th |
| Curved aquaplaning: | 72.60% | 9th |
| Dry handling: | 98.90% | 9th |
| Dry braking: | 92.30% | 10th |
| Rolling resistance: | 68.70% | 5th |
| Cabin noise: | 100% | 1st |