Lexus CT 200h Advance Plus special edition arrives
More style for your spend - the new Lexus CT 200h Advance Plus revealed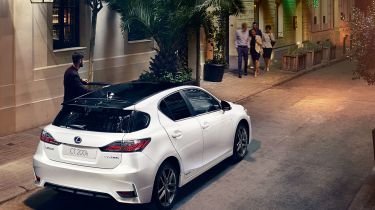 Lexus kicks off the New Year with the latest addition to its popular CT 200 line up - the Advance Plus. Premiering the manufacturers' first two-tone paint finish, amongst other stylish add-ons, Lexus' latest special edition model offers more features at a competitive price.
As well as the new paint job, the extra £1,250 the Advance Plus commands over the standard CT200h Advance, buys an F Sport roof spoiler, 17-inch alloy wheels, a sunroof and newly upholstered Tahara seats.
Like the Lexus CT 200h Advance version, the Advance Plus comes equipped with a host of technological driver aides including front and rear parking sensors, keyless entry, cruise control and the Lexus Navigation system. 
With low ownership costs boosted by the exemption from road tax that comes from having CO2 figures of 88g/km, the Lexus CT 200h Advance Plus brings added value to the all-hybrid CT 200h range.
Find out more about the Lexus CT 200h with our in-depth review…