McLaren confirms P1 Nurburgring lap time
McLaren reveals P1 lap time of less than seven minutes, but refuses to name exact time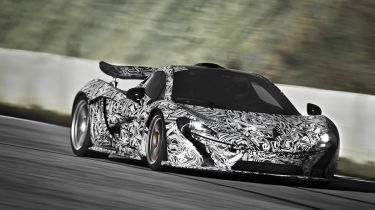 After much speculation, the McLaren P1 hypercar has posted a sub-seven minute lap at the Nurburgring. However, the manufacturer has not issued an exact time, suggesting it failed to beat the Porsche 918 time of 6 minutes 57 seconds.
McLaren labelled the sub-seven minute lap "the final objective in the development programme" for the P1. Over the 13 mile circuit, which has more than 150 corners, the P1 averaged 111mph.
Powered by a 727bhp 3.8-litre twin-turbo V8 engine, coupled with a 176bhp lightweight electric motor, total output for the P1 is 903bhp. Combined with the aero-optimised body, the P1 can hit 62mph in 2.8 seconds and reach 186mph in 16.5 seconds. At those speeds the P1 can generate up to 600kg of downforce.
McLaren chief test driver, Chris Goodwin, who completed the sub-seven minute lap, said, "The track is like the rollercoaster from hell. However, the car feels balanced and poised throughout, and inspires you to push on with the levels of grip and all-round ability."