UK car production: output declines 11.3 per cent in April
The semiconductor shortage continues to drive down car production in the UK, as exports also fall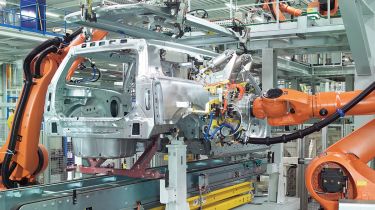 Only 60,554 new cars rolled off UK production lines in April 2022, 11.3 per cent fewer than the same month last year.
The Society of Motor Manufacturers and Traders (SMMT) attributes the decline to the ongoing global semiconductor shortage, the impact of the war in Ukraine on supply chains, model changes and broader industry structural changes.
Production output for overseas markets fell by 20.8 per cent, driven by a 68 per cent decline in demand from the US and a 10.4 per cent drop in shipments to Asia. Six out of 10 exported cars went to the EU, marking a five per cent increase.
Production for the domestic market, meanwhile, rose by an impressive 60.1 per cent year-on-year, to 12,768 units.
Mike Hawes, chief executive of the SMMT, commented: "The UK car industry is exposed to a host of issues that are undermining output and competitiveness. Global chip shortages and supply chain disruption are exacerbated by spiralling energy costs, additional trading costs and slowing global markets.
"The foundations of the sector are strong and the transition to zero and ultra-low emission vehicles continues apace but we need more policies and measures that support manufacturing and encourage investment into the UK at this most challenging of times.
"As the overall cost of business continues to increase, UK automotive manufacturing urgently needs relief on specific input costs, most notably energy, which have doubled in the last year and are putting UK manufacturers at a competitive disadvantage.
"UK automotive manufacturing needs relief equivalent to that afforded to energy intensive industries and access to low cost and low carbon energy comparable to European competitors, combined with long-term measures to boost investment in R&D, plant and machinery and skills to ensure productivity and competitiveness are assured as the sector transitions to zero carbon technologies."
Click here for our list of the best SUVs on sale right now...