UK car production on slow road to recovery in June
With over 450k cars built in the first half of 2023, the UK car industry is still on an upward trajectory but remains 32.5% down on pre-COVID levels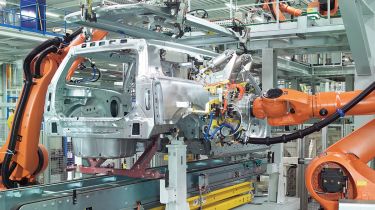 The British car industry is slowly recovering after the record lows caused by the pandemic and subsequent component shortages, according to official figures released by the Society of Motor Manufacturers and Traders (SMMT).
UK car production rose to 450,168 units for the year to date, a rise of 11.7 per cent for the first half of 2023. June's figure was up by 16.2 per cent compared to the same month last year, making it the fifth consecutive month of growth. However, the year-to-date output totals are still 32.5 per cent below the pre-COVID levels of 2019.
The slow recovery in the production numbers has been made possible by British car makers securing new supplies of essential components such as semiconductors and wiring looms, which were disrupted by the COVID crisis and war in Ukraine.
Electric and electrified models have seen the greatest growth, with production of hybrid, plug-in hybrid and pure battery electric vehicles up 71.6 per cent from January to June to a record total of 170,231 units. This meant they made up 37.8 per cent of all cars produced in the UK.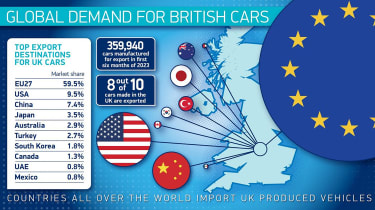 There was also good news for exports, which have surged 13.6 per cent to 359,940 units. This means eight out of every 10 cars made in the UK during the first half of 2023 was sent overseas. 
The European Union remains the UK's largest market, taking 59.5 per cent of all exported cars, up by 11.2 per cent to 214,017 so far this year. The US, China, Japan and Australia make up the remaining top five export destinations for British-built cars.
Mike Hawes, Chief Executive of the SMMT, said: "UK car manufacturing is growing again, with production – especially of electrified models – increasing and major investment announcements making headlines. But we must build on this momentum, sustain growth and attract further investments with a strategy that focuses on competitiveness, and which strengthens the UK's unique automotive offering."
In the market for a new car? These are some of the best deals right now...