European automakers urge negotiators to secure Brexit deal
With just 15 weeks left of the transition period, industry bodies warn Europe will lose €110bn by 2025 if no deal is reached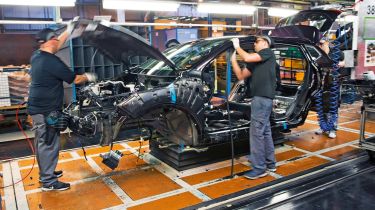 Politicians on both sides of Brexit negotiations must "pull out all the stops" to secure an ambitious free trade deal, or risk accumulated losses that will run to €110bn (£101bn) by 2025.
The call comes as the end of the transition period looms, with just 15 weeks left to secure a trade deal between the European Union and the UK, and punitive World Trade Organisation (WTO) terms applying if no agreement is reached by 31 December.
WTO terms would apply a 10 per cent tariff on cars and up to 22 per cent on commercial vehicles, both paid by importers. Industry leaders warn that these costs would "almost certainly" be passed on to consumers. 
A total of 23 trade bodies from across EU countries, including the UK's Society of Motor Manufacturers and Traders (SMMT), and the continent-wide European Automobile Manufacturers Association (ACEA), are urging ministers, civil servants and diplomats to pull together in negotiations, or risk "severe repercussions" to European automotive companies, in an industry that supports one in 15 jobs, and 14.6 million livelihoods, across the EU and UK.
The organisations warn that if No Deal goes ahead, car and van production, which was running at 18.5 million units a year, will fall by three million units across affected nations over the next five years. EU automotive has already seen production fall by 3.6 million units due to coronavirus.  
Mike Hawes, chief executive of the SMMT, warned the impact analysis paints "a bleak picture of the devastation that would follow a 'no deal' Brexit." Hawes said tariffs and trade barriers would "compound the damage already dealt by a global pandemic and recession, putting businesses and livelihoods at risk," adding: "Our industries are deeply integrated so we urge all parties to recognise the needs of this vital provider of jobs and economic prosperity, and pull out every single stop to secure an ambitious free trade deal now, before it is too late." 
Eric-Mark Huitema, director general of the ACEA, said the "stakes are high" for automakers, and that a No Deal Brexit, combined with Coronavirus impacts, would be a "double whammy" for an "already reeling" sector.
Thinking of driving in Europe after Brexit? Click here for everything you need to know...