Plug-in car grant cut from £2,500 to £1,500
Maximum value of new plug-in cars eligible for the grant has also been cut from £35,000 to £32,000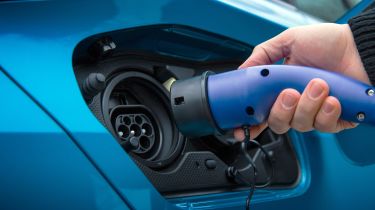 The Government has brought yet another round of cuts to its plug-in car grant. Buyers can now only claim a maximum of £1,500 off the price of a new eligible plug-in car (£1,000 less than before) on models costing no more than £32,000 – £3,000 less than previously.
These changes, the Government says, will allow the grant funding to go further and support more affordable vehicles. Around 20 new models are eligible under the updated scheme, with wheelchair-accessible cars continuing to benefit from the previous rate of a maximum £2,500 grant on vehicles costing up to £35,000.
The plug-in van grant has also been cut to £5,000 for large vans and £2,500 for small vans, with a limit of 1,000 customers per year. Plug-in motorcycles will benefit from a maximum of £500 off and mopeds £150.
In order to qualify for the grant, a plug-in car must have a zero-emission range of 70 miles, and a manufacturer quoted CO2 emissions figure of less than 50g/km. Although this means a plug-in hybrid could technically qualify for the grant if it met these criteria, no such model exists.
Transport minister Trudy Harrison said: "The market is charging ahead in the switch to electric vehicles. This, together with the increasing choice of new vehicles and growing demand from customers, means that we are re-focusing our vehicle grants on the more affordable vehicles and reducing grant rates to allow more people to benefit, and enable taxpayers' money to go further.
"We want as many people as possible to be able to make the switch to an electric vehicle, which is why we will also be introducing new rules to make it easier to find and pay at chargepoints. This will ensure drivers have confidence in our charging infrastructure, as we look to reduce our carbon emissions, create green jobs and level up right across the UK."
Mike Hawes, chief executive of the Society of Motor Manufacturers and Traders (SMMT), said the cuts represented "a blow to customers".
"We need to move the market even faster – from one in a hundred cars on the road being electric, to potentially one in three in just eight years – which means we should be doubling down on incentives," he said. "Other global markets are already doing so whereas we are cutting, expecting the industry to subsidise the transition, and putting up prices for customers. UK drivers risk being left behind on the transition to zero-emission motoring."
Take a look at the best plug-in hybrid cars you can buy now...