Ionity to have 7,000 350kW chargers in Europe by 2025
Ionity's investors - including several major car manufacturers - pump €700m of funding into rapid charging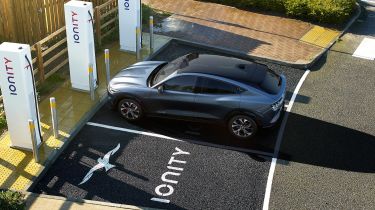 Electric car charging network Ionity has received a new €700million investment from its backers to accelerate its rapid charging provision across Europe, with 7,000 350kW chargers to be in place by 2025.
The money from Ionity's shareholders - which include BMW, Ford, Hyundai, Kia, Mercedes and the Volkswagen Group - will go towards expanding the firm's network to four times its current size.
The network currently covers 24 European countries, including the UK, with the new chargers due to be installed on motorways, other busy trunk roads and near major cities. Each new site will have an average of six to 12 charge points, while existing sites will be upgraded with more units.
Renewable power firm BlackRock has also become the first company that isn't a car manufacturer to join Ionity's list of investors, which the network's CEO Dr Michael Hajesch says confirms the strength of the company's strategy.
The charging network has also unveiled a new concept, dubbed Oasis, for a new type of charging forecourt. Dr Marcus Groll, chief operating officer at Ionity, said: "Whether it is covered charging stations or charging parks alongside cafés, restaurants, and shops, we want to offer our customers a more convenient and comfortable charging experience in the future."
The Oasis concept will see chargers implemented at purpose-built service stations owned and operated by Ionity. At present, the firm's chargers are often installed at Shell service stations.
There are currently 17 Ionity sites in the UK with 66 chargers between them. When asked, the firm would not comment on how many new chargers the UK will receive as a result of the new €700million investment.
Click here for our list of the best electric cars on sale right now...