AA Driving School adds electric cars to its fleet
Learners will be able to have driving lessons in a Peugeot e-208, e-2008 or Vauxhall Corsa-e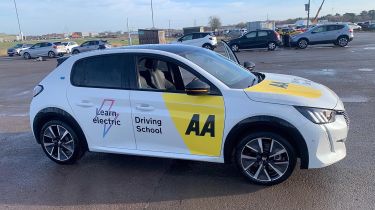 The AA Driving School is adding electric cars to its fleet, enabling learners to have lessons in an EV. The Peugeot e-208 and e-2008 and the Vauxhall Corsa-e are the first three electric models available to the AA's instructors, with more to follow.
The first EV lessons will take place in London, Luton, Liverpool, Essex, West Sussex and Cardiff, but instructors from other areas of England, Wales and Scotland have expressed an interest – 15 per cent of AA instructors, in fact, are now on the waiting list for an electric car.
Furthermore, a poll of 505 AA instructors saw 78 per cent say they would make the switch to teaching in an EV if they could, primarily because of fuel saving and environmental benefits.
The AA Driving School also surveyed 191 learner drivers. Of these, 81 per cent are currently taking lessons in a manual car, yet 40 per cent said they would happily learn in an electric car instead.
Some 67 per cent said they would consider owning an electric car in the future – 27 per cent were unsure and six per cent said they wouldn't.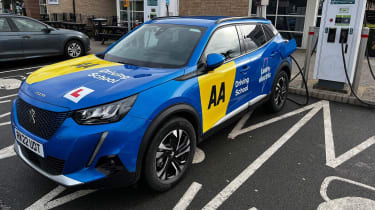 The AA Driving School anticipates the expanding introduction of EVs to its fleet could save more than 1,700 tonnes of CO2 in one year. Learners who pass their test in an EV will only earn an automatic driving licence, however.
Mark Oakley, interim managing director of AA Driving School, commented: "We are fully committed to bringing EV lessons to the whole of the UK and transform our environmental impact over the coming years.
"The main difference with learning in an electric car is the transmission and learners will have to take an automatic driving test, so will not be eligible to drive a manual car. We ask the Government to consider modernising the driving test, so the next generation of drivers are encouraged to switch to EVs sooner. In advance of this, we will continue with our efforts to inspire learners to take EV lessons."
Edmund King, president of the AA, added: "The world of cars is changing. A revolution is coming, and younger people are beginning to see that the 2030 deadline banning [the sale of] new [conventional] petrol and diesel cars is really not far away.
"There is increasingly an acknowledgement that you do not necessarily need to learn how to change gear. In the very near future, you will only need to drive an automatic, because all EVs are automatic."
Click here for our list of the best electric cars...