Hennessy Mammoth 6x6 revealed as monstrous 1,012bhp six-wheeler
Texas tuning specialist Hennessey has created a six-wheel drive Dodge Ram TRX pick-up truck, fitted with a 6.2-litre Hellcat V8 and costing more than $449,950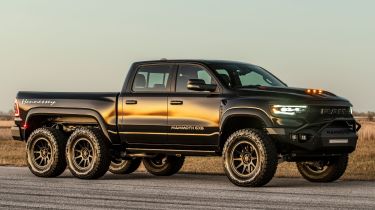 American car firm Hennessey, famous for its Venom hypercar and thundering high-performance modification projects, has turned its attention to the Dodge Ram to produce this: the Mammoth 1000 6x6 TRX pick-up truck. It's a six-wheel drive, 1,012bhp behemoth that's over four feet longer than a standard Ram, costing in excess of $449,950 (£345,703 approx).
To build the Mammoth 6x6, Hennessey has extended the load bay of the Ram to add a third axle that features a locking differential. All six 20-inch wheels are wrapped in 37-inch off-road tyres. Under the bonnet, the Ram's 6.2-litre Hellcat V8 is retained, albeit with extensive modifications including a new high-flow supercharger, uprated injectors and a revised induction system, with bespoke engine mapping to suit. The result is 1,012bhp and a colossal 1,314Nm of torque.
In an effort to control all this power, Hennessey has fitted Bilstein suspension at each axle, and promises scorching performance on and off-road. Company founder John Hennessey said, "Everything we do at Hennessey Performance is turned up to 11, but the Mammoth 1000 6x6 is definitely turned up to 12! Everything on the Mammoth 6x6 is bigger, badder, and more imposing – plus, it's still super-fast, while being a total powerhouse off-road. It's the undisputed king of the road."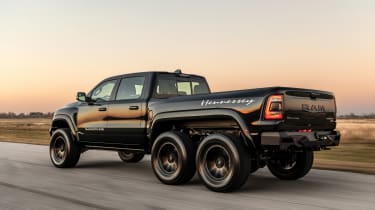 The Mammoth 6x6 stands at over seven feet tall, and features restyled front and rear bumpers, a set of additional LED lights and a bespoke cabin. Despite the extensive modifications, each example will be delivered with a two-year, 24,000 mile warranty. 
Just twelve Mammoth 6x6's will be built each year, and the new model joins the VelociRaptor 6x6 and Goliath 6x6 Silverado in Hennessey's range of six-wheeled powerhouses.
Click here for all the latest pick-up truck news and reviews...