ChargeUK aims to double UK's public EV charging network by end of 2023
New trade body calls for action on planning issues and VAT to speed up public charger deployment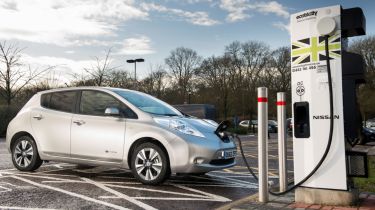 Twenty of the UK's leading electric car chargepoint providers have teamed up to form a new trade body 'ChargeUK', and they've pledged to double the number of public chargers in the UK by the end of 2023.
The initiative will be funded from a £6 billion private investment pot destined to be spent on UK charging infrastructure by 2030, with some of the main participants including GRIDSERVE, bp pulse, Ionity and Pod Point.
"Our intention is to, as one voice, reassure the public that the charging infrastructure they all want is not only coming, but is being deployed today," said CEO of charging provider Osprey and chair of ChargeUK, Ian Johnston. 
According to electric car charging website ZapMap, there are currently over 40,000 public charge points in the UK.
"If you look at the projects that we're developing today among members [of ChargeUK], that alone is enough to double the size of the charging network – and we'll build them, as soon as the system allows us to," Johnston told Auto Express.
"There's so much more we want the government to do [such as] removing the barriers around planning around highways… we also look forward to working with the government on VAT and making it equitable for all whether you have a driveway to charge on, or not."
The Minister for Decarbonisation and Technology, Jesse Norman, welcomed the formation of the new trade body, stating that "[it] shows how industry working together, alongside the Government, can release private investment, improve delivery, raise standards and promote the use of electric vehicle charging infrastructure for drivers across the country".
With the 2030 ban on sales of petrol and diesel-powered vehicles rapidly approaching, charging infrastructure is becoming ever more important. The Society of Motor Manufacturers and Traders (SMMT) already claims that there are now over a million electric vehicles on UK roads, with numbers growing as more affordable models are introduced to the market.
Read our complete guide to the big questions around electric cars...