Nissan e-NV200: first electric van to cost from £13,393
Nissan promises its e-NV200 electric van will revolutionise both commercial vehicles and black cabs
Nissan has announced prices for its new e-NV200 van, which costs from £13,393. Besides the lower-than-expected price, Nissan is claiming the e-NV200 will have running costs a mere fraction of a regular diesel-powered van's. The e-NV200 van also previews a new all-electric taxi design which Nissan is preparing to replace London's classic black cabs from 2015.
The headline £13,393 figure is for the entry-level Nissan e-NV200 Acenta van, when bought with a lease package for the battery. The outright on-the-road price is £16,562.20, including the £8000 UK government grant applicable to all plug-in vans sold here. The electric van is exempt from the London Congestion Charge and annual road tax. The e-NV200 is also available as a five-seater 'combi' model, which qualifies for a £5000 electric car grant.
Add those benefits to the fuel savings (Nissan aims a drop in running costs of £2500 a year, with servicing costs falling £575) and the e-NV200 could cost as little as two pence per mile to run, according to Nissan's own bullish figures. The figures are based around a four-year ownership period coveting 9375 miles a year. Meanwhile, a battery rental package will set you back between £61 and £109 per month, depending on annual mileage.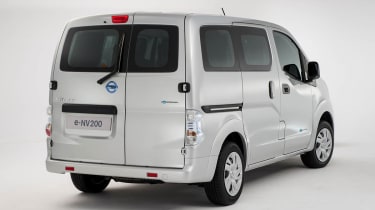 The top-grade models are Tekna Rapid Plus spec, costing £19,324 for the e-NV200 van and £26,309 for the five-seater. High-spec models get a fast-charging kit which reduces the recharge time from four hours to 80 per cent charged in 30 minutes. All versions get a standard rear-view camera and power-folding mirrors for a slightly less stressful city existence.
Nissan is readying a seven-seater taxi version with more retro styling tweaks to serve as a zero-emission London cab, with prices for that model yet to be announced.
Under the e-NV200's van body lie the electric workings of Nissan's Leaf hatchback, the world's best-selling all-electric car. The van's claimed range is 105 miles, and it has a top speed of 75mph. Not one for the white van men tailgaters out there, it seems.