Toyo Proxes Comfort review
Toyo has produced an impressively complete, well balanced package across the tests. The Proxes Comfort was pretty good to drive, too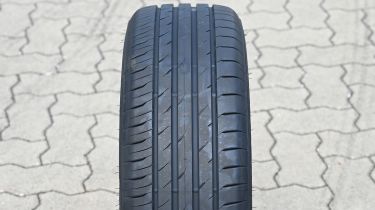 As with Kumho, Toyo is another test regular making a return with a tyre we've not tried before. We were pleasantly surprised, because this is the Japanese maker's best result to date. 
A balanced performance across all disciplines pays dividends, and the Proxes Comfort mixed a strong performance in the dry with decent results in the wet tests. As always, the results in the dry were close, and Toyo only missed the braking win by 10cm and the handling victory by a couple of tenths of a second. 
It offered strong front grip and good traction through the long 180-degree turn. The Toyo finished mid-pack in the wet, but crucially still close to the best of the rest after the Continental. Deep water is not its favourite, particularly when cornering, but it was on the pace elsewhere. 
The Proxes was less than a metre behind the best of the rest in braking and around a second slower on the handling track than the winning Continental. We got the same strong front in the wet as on the dry track, which let us get on to the throttle early and still maintain the line. The rear was well controlled, even when turning in off the throttle. The Toyo finished third for fuel economy after the Goodyear and Bridgestone.
Blackcircles.com says…
"Customers review this tyre favourably, with 4.7/5 overall. Feedback highlights its handling, quiet running, and good performance in all weathers."
Results
| | | |
| --- | --- | --- |
| Toyo Proxes Comfort |   |   |
| Overall | 98.9% |   |
| Price | £68.80 |   |
| Wet braking | 93.3% | 7th |
| Wet handling | 98.8% | 4th |
| Wet cornering | 99.3% | 5th |
| Curved aquaplaning | 78.4% | 9th |
| Straight aquaplaning | 93.7% | 8th |
| Dry braking | 99.6% | 2nd |
| Dry handling | 99.7% | 2nd |
| Cabin noise | 99% | 8th |
| Rolling resistance | 78.5% | 3rd |