Skoda Kodiaq hybrid due in 2019 with full EV to follow
New Skoda Kodiaq SUV will be the next Skoda to gain petrol-electric powertrain after the Superb in 2019, with all-electric model soon after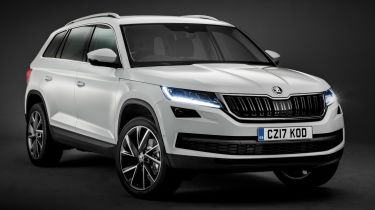 With Volkswagen's electrification push already well underway, sister brand Skoda does not want to feel left out. Boss Bernhard Maier has confirmed that a plug-in hybrid version of the new Kodiaq will arrive in 2019.
Having previously revealed the Superb will receive a plug-in petrol-electric powertrain in 2019, Maier confirmed at the Kodiaq's launch that the seven-seat SUV will be the next recipient of the technology.
"We will have Kodiaq hybrid very shortly after Superb hybrid. It will be in China first, as that is the biggest market, but Europe soon after.". Maier stated that the Kodiaq plays a huge part in Skoda's "SUV offensive", targeting a sector which already shifts 12.7m units a year worldwide, with that expected to increase to 18m units by 2025. As a result, the development of a hybrid can be funded by that car's success.
When asked why it would take so long for Skoda to enter the plug-in market when VW and Audi already have cars in it, Maier claimed "we cannot do everything".
"As we've stated before, we do not have to bring all the technology available in the group immediately to Skoda– we can afford to wait. What's really important is that our current product remains popular in traditional [petrol and diesel] markets. We reckon 2019 is a good time to launch a plug-in".
The Kodiaq and Superb will both share a version of the powertrain offered in the VW Passat GTE. That means a 1.4-litre TSI turbo petrol engine, which in the Passat produces 215bhp and claims a combined CO2 figure of 166mpg and CO2 emissions of just 39g/km. Expect similar figures from the Superb, but the Kodiaq won't be quite as efficient due to its extra weight and bluff SUV shape.
• Best electric cars to buy now
Maier also reconfirmed Skoda's plans to launch an all-electric SUV before 2020 is out. He said the electric car will be "awesome" and "purpose built to be an EV", setting new standards in the sector at the same time.
The unofficially confirmed Coupe-SUV, however, remains a China-only product for now. Problems with production capacity mean that there is currently no space for the car to be built in Europe and still be profitable. Maier isn't averse to the idea of the coupe SUV being exclusively built in China and shipped out to Europe, but that is "still under evaluation" as things like the cost of transport, logistics and import tax need to be considered.
Do you think VW's hybrid powertrain will be a hit in the Skoda Kodiaq? Let us know below...