Next Jimny To Be Barnstormer?
It's five alive for Suzuki. The next-generation Jimny 4x4 is likely to have an extra set of doors - and they will be rear-hinged. Insiders say the Landbreeze concept first seen at last year's Tokyo Motor Show and which resurfaced again at Geneva is the best indicator towards the Jimny's eventual replacement, due in three years' time.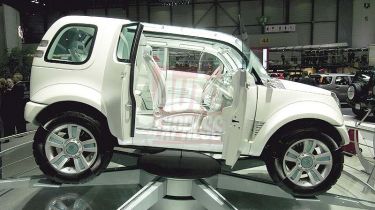 The hybrid features Mazda RX-8-style barn doors. A spokesman said: "One of the things that current Jimny owners are concerned about is the relatively poor access to the back seats, so the Landbreeze was developed with this in mind."
It's not known whether the Suzuki's successor will also feature the 660cc hybrid petrol-electric powerplant found under the bonnet of the prototype. But the Japanese firm is known to be pushing ahead with the development of the technology. However, that's not all the firm is working on at the moment. The manufacturer will also be launching three new vehicles in the UK over the next two years. All will be replacements for existing models, so expect to see fresh versions of the Grand Vitara, Liana and Wagon R+ in due course. Further down the line, Suzuki's tie-up with Fiat is expected to bear fruit in the form of a joint sport utility vehicle project. Although few details are available at the moment, the vehicle will be designed in Italy by Ital-design, but produced by Suzuki in Japan.