Volkwagen XL1 price will be close to £100k
The Volkswagen XL1 price will be €110,000 in Germany, with a total of 200 examples produced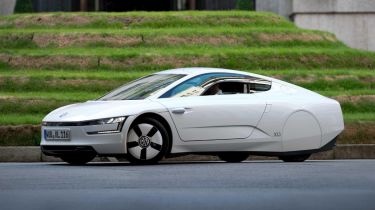 The Volkswagen XL1 will cost around £100,000 when it goes on sale in the UK, the company has revealed.
• Volkswagen XL1 news and reviews
While the exact UK price has yet to be confirmed, the £100,000 price tag is significantly more than originally thought. Only 200 production examples of VW's highly efficient plug-in hybrid will be built at the brand's Osnabruck factory in Germany. Each one will be hand built from carbon fibre reinforced plastic but every version will be left-hand drive.
That means sales in the UK will be small, with between 20 and 30 models scheduled to be sold here. According to sources within the company there has been a large amount of interest but the list of prospective customers will be whittled down according to their suitablity.
At that price, only a few people will be able to afford the VW XL1 plug-in hybrid, which uses a two-cylinder diesel engine and an electric motor to drive the rear wheels, and produces a combined 68bhp. However it is also capable of returning an official combined figure of 313mpg and just 20g/km of C02 - making it the most efficient car that's ever been built.
The top speed is electronically limited to 99mph but a VW engineer told us that it is capable of driving at 130mph but has been capped to increase its fuel efficiency. He also confirmed that the Ducati-powered protoype XL1 with racing modifications was currently under development.
Volkswagen say that technology from the XL1 will filter down to the company's mass-market models over time and once they can be made more affordable. However they also claim that because the first XL1 will be rarer than a Bugatti Veyron it is likely to appreciate in value over time - making it a tempting buy for collectors too.