Abarth Panda for £15k
Hot Fiat Panda is planned, and it will be powered by an uprated version of its turbo TwinAir engine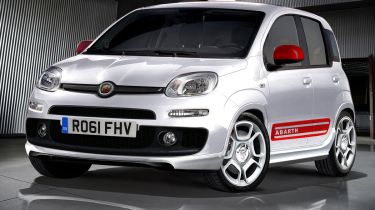 The Fiat Panda is set to get a hot new personality as part of a makeover led by Abarth.
Auto Express can exclusively reveal the car will be powered by a tuned version of Fiat's 875cc two-cylinder turbo TwinAir engine. It's expected to offer at least 110bhp – enough for 0-62mph in 8.5 seconds.
Top speed will be 110mph, while fuel economy will remain impressive at 60mpg. The same engine is set to feature in the new Panda 4x4.
The flagship Panda is tipped to hit showrooms some time in 2013, and will be the first Abarth-tuned car to feature this engine. Prices have yet to be officially discussed, although the entry-level car is likely to cost around £15,000.
For that, owners will be offered Abarth's trademark white and red paint scheme (as shown in our exclusive image), as well as an extensive bodykit, with large wings and spoilers. Colour-coded bodywork and 16-inch alloy wheels will also feature.
In transforming the Panda's driving experience from mild to wild, the Abarth tuning arm will also include upgraded brakes and lowered, stiffened suspension.
Inside the makeover will continue, with the new car getting bucket seats, a sports steering wheel and short-throw gearlever. Optional extras are expected to include a louder exhaust system, plus larger 17-inch alloy wheels.
A top-of-the-range Abarth Panda, wearing the Esseesse badge, is also being considered. The name is reserved for the brand's most outrageous and powerful cars.
The Panda will slot into the Abarth range alongside the 500 and Punto Evo. Both are powered by a 1.4-litre turbo engine offering between 135bhp and 180bhp.