Mitchell and King carnauba waxes
Waxes come in a posh container, with a selection of cleaning products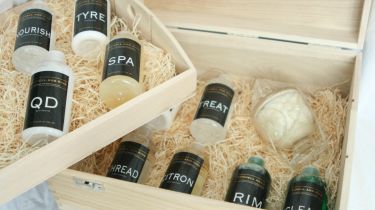 Luxury cars deserve the best in care and attention – and these waxes fit the bill. Scottish-based Mitchell and King is one of the only makers to offer hand-poured, handmade waxes in 200ml pots, and its new range starts at £75.
For that, you get Glitterati; a wax with tiny flecks of sparkles in the formula. Prices then jump to £150 for Armour, and £200 for the limited-edition Campbell wax – Mitchell and King will produce only 30 pots of this annually.
Rannoch wax, with 40 per cent white carnauba, costs £264.59, while the 60 per cent carnauba Philip wax is £307.59. This is limited to only 20 pots a year.
Montgomery wax is 65 per cent carnauba, and is priced at £621.03, with the 77 per cent carnauba Elite limited to 14 pots a year, at £1,135 each. If that's not exclusive enough, Mitchell and King will make a wax with a level of gloss and protection to suit you. And any of these waxes can be bought in a pack with a selection of cleaning products.