Goodyear Eagle F1 Asymmetric 3 review
Improved design keeps pace with development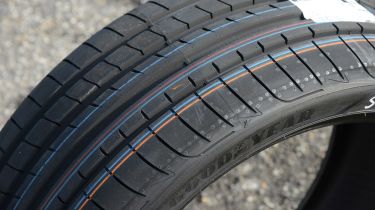 Improved design keeps pace with development
This test was the first time we had a chance to sample the Asymmetric 3, which Goodyear launched earlier this year via a webinar rather than the usual track event at its Mireval test facility. It replaces the Asymmetric 2, which was beginning to struggle in our tests, as it was nearing five years on the market.
Although the new tyre could only finish in fifth place, it significantly closed the gap on the front runners. As we've seen before, Goodyear has a decent handle on fuel economy and has carried the technology over to the Asymmetric 3; it finished just a few percentage points behind fellow newcomer Pirelli's P Zero.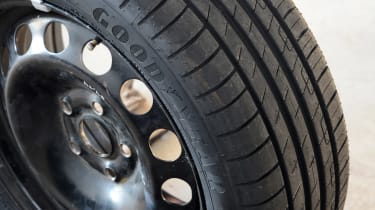 It was also close to the leaders in both shallow and deep water, finishing fourth for braking and handling, plus fifth on the cornering steering pad and curved aquaplaning.
The Goodyear felt agile around the wet handling track, yet while it hung on well through turns, it lost grip as the lock increased. In the dry, it felt a little softer and was noisy compared with others. It also seemed to be affected by the heat quicker than some and proved the slowest of all. Goodyear would no doubt liked to have finished further up the table, but the results are very close and this is a decent step up from the outgoing tyre.
Buy the Goodyear Eagle F1 Asymmetric 3 from Black Circles
| | | |
| --- | --- | --- |
| Price | £95.26 | |
| Dry handling | 98.60% | 9th |
| Dry braking | 97.60% | 5th |
| Wet handling | 98.40% | 4th |
| Wet braking | 92.70% | =4th |
| Wet cornering | 97.60% | 5th |
| Straight aqua | 97.60% | 6th |
| Curved aqua | 93.20% | 5th |
| Rolling resistance | 99.20% | 2nd |
| Cabin noise | 98.20% | 7th |
| Overall | 98.40% | 5th |