Alfa Romeo MiTo could be reinvented as crossover SUV
The now defunct Alfa MiTo supermini may morph into a B-segment crossover, as the brand looks to expand its SUV offering to four models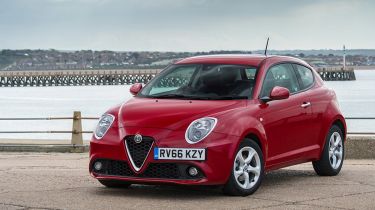 The Alfa Romeo MiTo could be reinvented as a five-door supermini SUV, Auto Express can reveal. When it arrives, it'll form the final pillar in the brand's four-strong SUV line-up.
Speaking at the Geneva Motor Show, where Alfa launched a concept version of its upcoming Tonale SUV, European boss Roberta Zerbi told Auto Express that the firm is looking at drawing more women to the brand. As such, it is placing particular emphasis on a replacement for the now defunct MiTo supermini, and that it could morph into a small SUV.
• Geneva Motor Show 2018: latest news
"I would like more women [to drive Alfa Romeos]," she said. "Alfa is always seen as the car for the petrolhead. But why? They are such beautiful pieces of design.
"The MiTo did well with women, but only to a certain extent. It was a three-door car, and women have to fit their children behind; a five-door is more appropriate."
Alfa bosses seem keen to stick to late CEO Sergio Marchionne's push to sell 400,000 cars per year, and Auto Express understands that a smaller model could help realise this.
When asked if the company was therefore looking at a replacement for the MiTo, Zerbi responded: "I think we need an entry-level. This is something we are working on. I'm not sure it is going to be a MiTo, but it will be an entry-level car for the brand."
Due to the enduring popularity of SUVs, this could mean Alfa Romeo is looking to expand its offering well beyond the existing Stelvio and forthcoming Tonale. Zerbi told us: "We are working on both the below (Tonale) and above (Stelvio).
Given the production-ready Tonale isn't due until late 2020, it's likely the two further SUVs are still some way off. Zerbi wouldn't give a timeframe, but neither is expected before 2022.
Electrification will play a key part in Alfa's future, meaning the smaller SUV will almost certainly be offered with mild-hybrid tech and possibly even as a full EV. Zerbi confirmed the Tonale will be available as a plug-in from launch, with the componentry due to join the Giulia and Stelvio ranges soon after.
Is transforming the MiTo into an SUV a good plan for Alfa? Let us know in the comments...