Alfa Romeo MiTo (2009-2018) review
The Alfa Romeo Mito is a stylish premium supermini, but it falls well behind the class best
Find your Alfa Romeo MiTo
Offers from our trusted partners on this car and its predecessors...
Or are you looking to sell your car?
Advertisement
The Alfa Romeo MiTo was billed as a posh supermini to rank alongside the likes of the Audi A1 and MINI when it was launched in 2008. It certainly matches them for looks - it's still regarded as one of the prettiest superminis on sale – even if it struggles to match rivals elsewhere. An update in 2016 tweaked the looks slightly to mirror those of the far newer Giulia saloon, but it was a case of too little, too late to bring the MiTo up to scratch, so it was discontinued in 2018.
While the MINI and A1 were the main targets of the MiTo when it first arrived, prices positioned it somewhere between those models and rival superminis such as the DS 3, SEAT Ibiza, VW Polo or Vauxhall Adam. And if you're looking for a stylish Italian city car, then the Fiat 500 is arguably a better pick.
On the surface, the MiTo (whose name is a combination of Milan and Torino (Turin), the Italian cities in which it was designed and built) looks appealing with its shield grille, rounded lines and assorted styling touches inspired by other models in the Alfa Romeo range. But delve under the surface, and things unravel rather quickly.
Build quality is a bit of an issue, with poorly fitting trim inside and out, hard plastics and flimsy switchgear inside. The engines aren't the most efficient, either, especially if you go for the TwinAir two-cylinder petrol. While it has respectable figures on paper, real-world economy is unlikely to meet expectations. On the positive side, the MiTo MultiJet diesel is pretty efficient.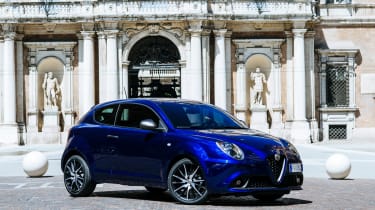 Alfa has tweaked the MiTo range throughout its life, but at the end the range comprised the standard MiTo, then Super, Speciale and Veloce trims. In the past, models such as the Junior, Sprint, Lusso and Turismo have graced the price lists, while the Veloce is the current hot hatch variant, although it has previously been known as the Cloverleaf and Quadrifoglio Verde.
All cars come with alloy wheels, Alfa's DNA driving mode selector, climate control and stop/start, while the Uconnect 5-inch colour touchscreen with DAB audio, Bluetooth and voice recognition was standard on all final models.
Super adds 17-inch alloy wheels, fog lamps, rear parking sensors, cruise control and aluminium pedals for a sportier look, while the Speciale has black 17-inch alloys with red painted brake calipers, a racy flat-bottomed steering wheel and sports seats, dark headlining and sports instruments plus carbon-fibre headlamp trim finishers and privacy glass.
The flagship model is the sporty MiTo Veloce, which comes with 18-inch alloys, the range-topping 170bhp MultiAir engine, plus active suspension, the Alfa TCT automated gearbox with steering wheel paddles, and upgraded infotainment.
This 170bhp motor is the flagship motor, with the rest of the range powered by the previously mentioned 900cc turbo two-cylinder TwinAir petrol, a 1.4 MultiAir turbo petrol or Fiat's 1.3 Multijet diesel. These came in different outputs throughout the MiTo's life.
The Alfa Romeo MiTo was never a front-runner in the premium supermini class. While it had funky looks and a range of efficient or powerful engines in the line-up, it was let down by poor handling and questionable build quality.
Partnership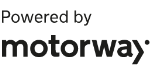 Need to sell your car?
Find your best offer from over 5,000+ dealers. It's that easy.
If you want a small car that stands out from the crowd, then it certainly fits the bill, but the TwinAir engines aren't as efficient in the real world as they are on paper, and the sportier models aren't engaging enough to justify their higher price tags. There are plenty of far more accomplished superminis on the market for the MiTo to make an impact, which is a real shame for such a stylish looking model.
Engines, performance and drive
Sporty handling is something that's missing from the Alfa MiTo driving experience
The Alfa Romeo MiTo shares its platform with the Fiat Punto and previous generation Vauxhall Corsa, and unfortunately Alfa hasn't been able to give it a sporty edge. The handling is safe and secure, but there's not much fun to be had.
Alfa's DNA switch is added to the centre console ahead of the gearlever, and this changes driving modes from Dynamic to Natural and All-Weather settings. This adjusts the response of the engine, steering, brakes, suspension (on cars with adaptive dampers) and gearbox (on TCT auto-equipped models). However, none of the settings offers a particularly sweet spot in the driving experience.
You're either left with an overly snappy throttle response, stiff suspension and harsh gear changes in D mode, or slower responses and hesitant gear changes in N mode. All-Weather mode offers the best compromise somewhere between these two, although it's still not satisfactory.
Light steering means the MiTo is easy to manoeuvre around town, but it doesn't inspire much confidence at higher speeds. Models with larger wheels also suffer from a jittery, firm ride that crashes over bumps and potholes.
If there's a more disappointing hot hatch than the MiTo Veloce on sale, we're yet to drive it. The MiTo is much slower than the Ford Fiesta ST or an RS Clio, and numb to drive, while the TCT gearbox hinders rather than encourages fast progress. A high list price means it will only appeal to the most die-hard Alfa Romeo fans.
Engines
There have been a wide range of engines available in the Alfa MiTo. At launch there were 1.3 and 1.6 Multijet diesels, a 1.4 petrol and a turbocharged 1.4 petrol, too. Changes saw the 1.6 diesel disappear and Fiat's TwinAir two-cylinder turbo petrol join the line-up, as well as the newer 1.4 MultiAir turbo petrol, while all engines were available in various states of tune.
Highlights include that 1.4 motor which comes with either 78bhp or 140bhp – the latter is turbocharged, giving strong performance. The 875cc two-cylinder TwinAir engine is responsive, but the noisy engine note doesn't really suit the MiTo very well and the narrow power band means you have to work it hard to make decent progress. The 95bhp 1.3-litre Multijet diesel emits just 89g/km CO2.
The MiTo Veloce (formerly Cloverleaf or Quadrifoglio Verde) uses a 170bhp version of the 1.4 MultiAir engine with a six-speed dual-clutch TCT gearbox that's shared with the Alfa 4C sports car.
MPG, CO2 and Running Costs
The Alfa MiTo's on-paper economy figures are difficult to match in the real world, especially in the TwinAir petrol
While the Alfa Romeo MiTo was initially pitched as a rival to the Audi A1 and MINI, it was priced slightly lower than these two and with more standard kit. Special editions helped bring prices down further by offering cars with more kit for even less money.
One of the MiTo's strengths is its affordable running costs. The 1.3 Multijet diesel has a stated economy figure as high as 83.1mpg combined, while emissions went as low as 89g/km, so if you can find a car with this engine registered before April 2017, you'll pay no road tax.
Even the most powerful turbocharged petrol model should manage to return close to 50mpg, thanks to a stop and start system that cuts the engine in stopped traffic. THe petrol models will be cheaper to buy than the diesel variants, too. The only letdown in the range is the TwinAir two-cylinder model. It promises great economy on paper, but in reality you'll be lucky to return more than mid-thirties mpg.
That's because while it might be effective in test conditions, you need to rev the engine hard to make progress, and as a result you'll be using far more revs than are ever carried in the official economy tests.
Insurance groups
The MiTo has insurance groups ranging from 8-27, although most of them are clustered from 8-15, with some of the more powerful models higher in groups 19 and 20. The highest groups are reserved for Veloce and Cloverleaf variants, thanks to their higher power outputs.
Depreciation
Residual values of the Alfa MiTo are in the region of 38-42 per cent after 3 years/36,000 miles. In comparison, the equally ageing Audi A1 has residual values of 41-50 per cent (the three door does marginally better than the five-door version), and the three-door MINI goes from about 38 to 46 per cent.
Interior, design and technology
Stylish looks are what the Alfa MiTo is all about, but don't scratch too far under the surface, as quality is a disappointment
When the Alfa Romeo MiTo first appeared, it caused a sensation. With its narrow shield grille, big round lights, with rears inspired by the 8C Competizione supercar, and compact three-door shape, it certainly looked different to any other supermini on sale.
It remained largely unchanged through its production life, although an update in 2016 did add front end styling that took its cues from the Giulia saloon. But as sleeker and more dynamic looking rivals hit the scene, the look of the MiTo started to look a bit upright and dumpy.
Still, Alfa offered a variety of personalisation options, including silver or dark grey finishes for the headlight surrounds and wing mirrors and diffrent alloy wheel designs. Traditional Italian racing red brought the best out of the MiTo's looks, but dark colours tend to make them look a bit dull.
Inside, some Italian flair was added courtesy of the cowled dials, rotary controls and circular air vents. But the minor switchgear is taken straight from the Fiat Punto, and it's rather flimsy, while the large, thin-rimmed steering wheel and hard plastic column stalks take away from the MiTo's upmarket aspirations.
Top-spec Cloverleaf and Veloce models featured sportier looks and could be had with racy Sabelt sports seats.
The real problem with the MiTo was its patchy build quality. Cars we tested would have issues with poorly fitting trim and upholstery that had been botched in places to make it fit properly.
Sat-nav, stereo and infotainment
All the MiTo arrived before the advent of smartphone connectivity, so Apple CarPlay and Android Auto have never been offered. The best you could get was a tiny touchscreen infotainment system that sat low on the dashboard.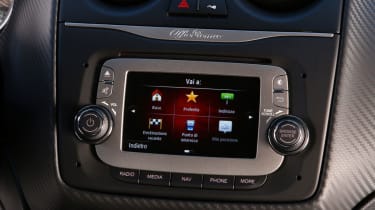 It was easy enough to operate with two rotary knobs and a number of shortcut buttons, but the 5-inch screen is quite small to be able to read it properly. Still, the Uconnect system has Bluetooth, a USB and aux ports, voice control and later cars had DAB radio, too.
Practicality, comfort and boot space
Three-door body and a small boot counts against the Alfa MiTo
The Alfa Romeo MiTo's interior layout is simple and easy to use, but the fit and finish is woefully inadequate. All versions are well equipped, with even base models getting air-con, a trip computer, electric windows and stop and start as standard. The MiTo is only offered as a three-door, and space inside is quite limited. The rear seats are cramped and quite difficult to clamber into, and there isn't much head or legroom.
Cabin storage is also rather poor, with a pair of shallow cup holders a small glovebox and shallow door bins to keep your odds and ends in.
Size
The MiTo measures 4,063mm long, 1,720mm wide and 1,446mm tall. There are no shocks in term of its dimensions - it measures roughly the same as its supermini rivals, although some of those are available with five doors.
Leg room, head room & passenger space
The MiTo is only offered as a three-door, so access to the back seats is difficult and space inside is quite limited once you're there. The rear seats are set close together, and while some versions did come with three headrests and seatbelts, it wouldn't be much fun for three people to sit in the back for very long.
Space up front is better, but it's difficult to get a comfortable driving position. Go for a Veloce model with sports seats and they are firm but supportive, although they are mounted a bit too high to provide a sporty driving position.
Boot
The 270-litre boot is adequate - it's bigger than a MINI, for instance – but the boot opening isn't very wide and the lip of the tailgate is extremely high, making loading bulkier items of luggage quite awkward. 60:40 split folding rear seats - which are usually standard on most rivals - are an option.
Reliability and Safety
Even after a decade in production, the Alfa MiTo isn't the best for build quality
In the benchmark Euro NCAP crash test, the Alfa Romeo MiTo scored a five-star rating in its launch year of 2008. This was for adult occupant protection, as there was no overall star rating and no percentage scores awarded in each category. The other star ratings it gained was a three-star score for child occupant protection and only two stars for pedestrian safety.
Standard safety kit includes seven airbags, ESP traction control and Isofix child seat fixings. Safety options included tyre pressure monitoring and bi-xenon headlamps, but the MiTo comes from a time before autonomous city braking and other driver aids, so it's impossible to compare to newer rivals.
While the MiTo seems better built than previous Alfas, the company still has a poor reputation for reliability, which is reflected by its poor showing in our annual Driver Power survey, where it ranked 25th. Not only that but the electrics and shoddy feeling interior plastics are likely to cause more trouble than in the equivalent MINI or Audi models. Of a particular concern are the sharp edges and wide shut lines of some of interior trim pieces.
But Alfa's dealers are on the comeback, buoyed by the success of newer models such as the Giulia and Stelvio. Its garages came 6th and the top-ranked European manufacturer in the 2018 Driver Power dealer survey, with owners praising staff friendliness and a high standard of workmanship. So while you might be visiting Alfa dealers more often then you might like in your MiTo, you should at least have a pleasant experience while you're there.
Warranty
Alfa offers an industry standard 3-year warranty on all of its models comprising 24 months of manufacturer cover and another 12 months of dealer cover. Unlike some rivals, this has an unlimited mileage restriction. In addition, roadside assistance lasts for the same period. There's the same cover against paint defects, while internal corrosion is covered for 8 years.
Servicing
There are 18,000-mile or 12-month service intervals for the MiTo, and Alfa offers Easy Care servicing for it. Prices vary depending on the age, mileage and drivetrain of your car.
For an alternative review of the latest Alfa Romeo MiTo Hatchback visit our sister site carbuyer.co.uk