Scrappage Special - Star buys in three price brackets
As buyers cash in on the Scrappage Scheme, we rate eight of the top cars to spend your £2,000 discount on, in three key price brackets.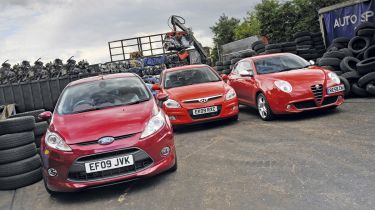 There's never been a better time to cash in on your old banger. The Scrappage Scheme gives owners of cars registered before 31 August 1999 £2,000 off the price of a new model if they send their existing one to the crusher – but some deals are even more generous.
The industry has reacted swiftly. Even as we were completing this road test, prices were being tweaked, and some firms have rushed to launch cut-price models to tempt buyers to sign up. But we've done the hard work for you, by picking our favourite Scrappage buys in three price categories.
The discount brings some city cars below £5,000, so that's where we start. Then we pick a trio of buys on sale for less than £10,000 thanks to the initiative.
There's something for everyone in our sub-£16,000 category, with a sporty MINI, spacious Skoda and practical Ford. Of course, owners of cars that don't qualify can still take advantage of some great offers in dealers.