SEAT Ibiza Cupra Vs Alfa Romeo MiTo
With its dramatic looks and hi-tech mechanicals, SEAT's new Ibiza Cupra is set to shake up the hot hatch market. Can it beat Alfa's distinctive MiTo...?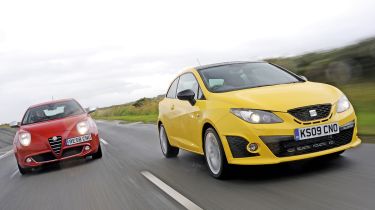 For many car manufacturers, hot hatches are a luxury. They help to show off a model's sporty side and look great in brochures, but buyers in many countries aren't especially taken by big performance in a small package.
This hasn't deterred SEAT. The Spanish firm places huge emphasis on all its models' sporting appeal, and the sales figures prove this is more than just marketing spin.
FR and Cupra variants make up a growing proportion of Ibizas and Leons finding homes in the UK – so it's no surprise that bosses have pulled out all the stops on the newest addition to the hot hatch family.
The Ibiza Cupra is fitted with all the latest technology from the VW Group. That means a 1.4-litre powerplant with a supercharger and turbocharger which delivers a heady 178bhp, as well as a seven-speed dual-clutch DSG transmission with steering wheel-mounted paddles. There's also an advanced traction control package which mimics a limited-slip differential. So the stage is set for another big-selling SEAT hot hatch.
Standing in the Cupra's way in its first UK test is a very tough opponent. Alfa Romeo has long set out its stall as a maker of sporty small cars, and its MiTo combines stunning looks with a turbocharged engine in a great-value package. SEAT will have to secure victory here if it hopes to maintain its position as king of the low-cost sporty hatchback market
Verdict
In a world of heavyweight hot hatches, where 300bhp has become the target power output, driving more down-to-earth performance models is refreshing. Here we have two three-doors which haven't forgotten the importance of efficiency and value in their pursuit of thrills.
But neither offers the excitement and engaging driving experience that Renaultsport fans are used to. If that's what you want, stick with the cheaper Clio Cup. Instead, both of our contenders provide a more stylish and – in the case of the SEAT – mature package.
While the MiTo is both charming and fun to drive, the Ibiza is by far the better all-rounder.
The combination of a 1.4-litre engine, a semi-auto gearbox and a softer set-up than previous Cupra models might not sound like a recipe for success, but the SEAT has much wider appeal. As an overall package, it's a convincing winner.