SEAT Ibiza review
The SEAT Ibiza includes great on-board tech and sets a very high standard in the supermini class
The Ibiza has a grown-up feel very much like the bigger award-winning Leon. It's supremely quiet, even with 1.0-litre three-cylinder engines under the bonnet, while it's comfy and good to drive. There's good space inside for passengers and luggage, while quality is impressive on the whole.
A facelift in 2021 addressed some of the previous complaints of scratchy interior plastics and cheap-feeling cabin materials which, along with a raft of new on-board tech, helps keep the Ibiza competitive. Crucially, prices are virtually unchanged from the previous model range, too.
About the SEAT Ibiza
It used to follow in the shadow of rivals, but the latest SEAT Ibiza is easily one of the best superminis for sale in the UK today. It was the first small car launched by the VW Group to use the company's MQB platform, and as a result benefits from a raft of cutting-edge tech that you would normally find on larger cars.
As with past models, the Ibiza is a sporty choice in the supermini class, even if you don't choose the racy FR or FR Sport models. The handling is sharp, but not at the expense of comfort, while increased dimensions help the Ibiza to be one of the most spacious cars in the class, too. SEAT introduced a refreshed model range in late 2021, which included minor styling tweaks, but a much improved interior with new on-board tech and smarter cabin trim.
The Ibiza battles with the Ford Fiesta and Renault Clio for the honour of being the most entertaining supermini for sale, while cars such as the Mazda 2 and Peugeot 208 play the sporty card. Elsewhere, the VW Polo and Citroen C3 are quality alternatives, and the Skoda Fabia, Vauxhall Corsa and Honda Jazz all offer great ability, along with the reliable Hyundai i20, Kia Rio and Toyota Yaris.
All SEAT Ibizas are five-door hatchbacks, with prices starting from around £16,500. With SE being the entry point to the range, there is no basic model in the line-up. All cars get alloy wheels, a touchscreen DAB radio with smartphone connectivity, LED daytime running lights and tail-lights, metallic paint and a suite of modern safety kit as standard.
SE Technology adds a bigger touchscreen with sat-nav, 16-inch alloy wheels and ambient interior lighting, while FR adds sportier trim, 17-inch wheels and a drive mode selector. Again you can upgrade FR to FR Sport, which adds 18-inch wheels, suede-effect upholstery and a digital dashboard.
At the top of the range, the Xcellence features LED headlights, plenty of chrome accents and rear parking sensors, while the top-spec Xcellence Lux adds adaptive cruise control, front parking sensors and a rear view camera.
At the moment there's no rapid Cupra Ibiza hot hatchback, and while a punchy 1.5 TSI turbo petrol engine was offered at launch, the current engine range now just comprises 1.0 MPI and TSI petrols. The 79bhp 1.0 MPI is offered in SE, SE Tech, FR and FR Sport cars, but is a bit slow, so we'd recommend going for the 1.0 TSI instead. It comes in 94bhp and 108bhp power outputs, but neither is any worse economically than the 1.0 MPI.
All cars are front-wheel-drive, with the 1.0 MPI and lower-powered 1.0 TSI coming with a five-speed manual gearbox. The more powerful TSI has a six-speed box, and it can also be had with the slick-shifting seven-speed DSG automatic.
Used and nearly new SEAT Ibizas
The original SEAT Ibiza made its debut in 1984 and was the Spanish firm's first attempt at a homegrown supermini. Up until this point the brand had effectively produced rebadged Fiat models, largely for its home market. Originally a three-door hatch it later spawned a more versatile five-door variant.
Since then there have been four more generations of Ibiza, each aiming to combine a dash of Latin design flair, with fun-to-drive dynamics and value for money pricing. From the second generation on, the supermini shared its underpinnings and engine with other models from the VW Group, which bought SEAT outright in 1990.
SEAT Ibiza Mk5: 2017 to present
The most recent Ibiza is the best yet, and the first to be a true supermini benchmark. Based on the same platform as the current VW Polo, it mixes a refined and grown-up driving experience with typically eye-catching looks and the latest tech. Available only as a five-door, it's a surprisingly roomy and versatile small car that can easily double as family transport. The rapid Cupra models have been dropped from the range, but the sporty FR models offer warm hatch pace and engaging dynamics.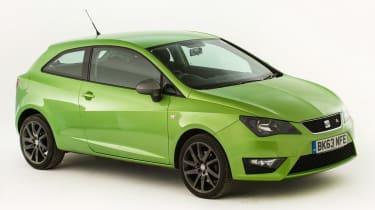 SEAT Ibiza MK4: 2008 to 2017
SEAT pulled out the stops on the style for the fourth generation machine, which was one of the most distinctive looking superminis when it debuted in 2008. In fact, despite being in production for the best part of a decade it only ever got the most minor of facelifts over the years. It was good to drive thanks to a firm suspension set-up that prioritized sharp handling over comfort, while the hot Cupra models offered lots of performance for the cash. Yet a lack of overall quality and refinement compared to similar era rivals meant the SEAT was rarely in contention for class honours. You can read our full SEAT Ibiza Mk4 buyer's guide here. Read the full review...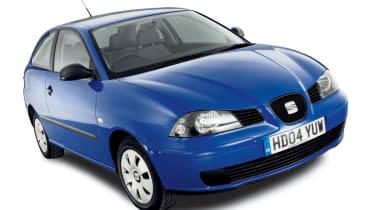 SEAT Ibiza Mk3: 2002 to 2008
The first Ibiza to set the stylish and sporty tones for following models, the third generation model was penned by former Alfa Romeo designer Walter da Silva. Like it's predecessor it was sportier to drive than many of its rivals, while once again there were hot Cupra versions, including a muscular diesel. This was also the last version of the Ibiza to include a four-door saloon Cordoba version in its line-up. Read the full review...
Older SEAT Ibiza models
The first generation Ibiza was launched in 1984 and was one of the first SEAT models not to be a re-badged version of an older Fiat. While it was loosely based on the Italian firm's Ritmo family hatch, the three-door Ibiza was styled by Italdesign and used engines that had been massaged by Porsche (most cars had proud 'System Porsche' badges applied). Quality was a bit hit and miss, but the SEAT looked good and drove well, especially compared to budget rivals from Skoda and Lada. It's popularity was boosted by a five-door version, but the Malaga four-door saloon was a slower seller.
However, it was the second generation model that made SEAT a household name, as it was the first model to be fully developed under the firm's new owners VW. Based on an all-new platform that would go on to underpin the third generation VW Polo, the Ibiza was a much more grown-up and sophisticated car than its predecessor. It was bigger too, with a more practical interior that had a much more upmarket feel. This Mk2 machine also debuted hot GTi and Cupra versions, which effectively used 1.8 and 2.0-litre engines (both 8 and 16-valve) and suspension from the Golf GTi. The SEAT's appeal was further broadened by the fact you could get a wide range of body styles, including three and five-door hatchbacks, a four-door saloon and even a versatile estate.